Tennis: Auto-Equip Car Wash Tournament-Anthony Brioche and Fatim Kanté singles winners
26-July-2004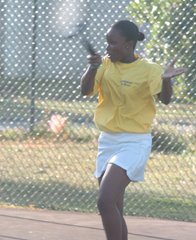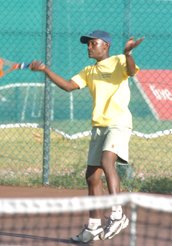 Even so, there was enough water at the Roche Caïman tennis courts to quench the thirst of the finalists during and at the end of the inaugural Auto-Equip Car Wash Tournament on Saturday.
In the ladies' singles final, Kanté twins sisters Fatim and Zenab met once again and the more popular of the two – Fatim – took home the winner's prize on a 2-0 (6-2 6-3) score in a rather easy match.
Men's singles finalist Steven Rideau-Mein played a part in delaying the start of the match as he demanded that no one should be playing on the other courts while the finals are on, but Anthony Brioche kept his head on his shoulder to collect victory.
Employed as national team coach by the Seychelles Tennis Association, reigning tennis player of the year Brioche defeated Rideau-Mein 2-0 (6-3 7-5).
The day before, former Australian national team coach Tim Horpinitch teamed up with two of the country's best young players to win the men's doubles and mixed doubles finals.
In the men's doubles, Horpinitch and Dine had no trouble whitewashing the duo of Brioche and Rideau-Mein 2-0 (6-3 6-3).
In fact, Rideau-Mein, who had reached three of the four finals, went home the worst loser as he could only collect runner-up trophies.
In the mixed doubles with Marie-May Isnard as partner, Rideau-Mein lost in straight sets 2-6 3-6 to Horpinitch and Clyvie Delpeche.
G. G.