Volleyball: League championship-Favourites tag suits Premium Spikers and Arsu
26-July-2004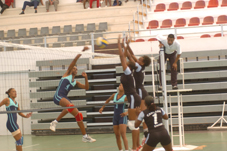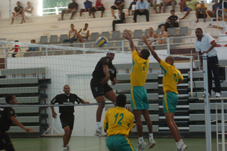 With a 3-1 win, Premium Spikers are unbeaten in the men's first division, a record also being held by Arsu, 3-1 victors over Cascade 'A' in the women's top flight.
Having overcome their toughest opponents in the first round encounters, Arsu and Premium Spikers have shown that the favourites tags suit them well and that it is going to take their adversaries a great deal of courage and determination to try and wrestle the League crowns on which they already have one hand.
Arsu look ordinary in victory
Arsu had last met Cascade 'A' in March during the semifinal of the Indian Ocean Club Championship (IOCC) and captain Marie-Ange Bouchereau and company triumphed on the way to winning the regional title a record fourth time.
On Saturday, Arsu, who decided not to defend their Curtain-raiser crown leaving the initiative to Cascade 'A' to triumph in front of La Digue, looked ordinary as they had to dig themselves out of the hole their opponents had thrown them.
With Cascade 'A' claiming the first set 25-22 after 20 minutes of play, Arsu's coach James Camille had to play with his line-up to get his players to focus and do what they enjoy doing – playing volleyball.
Skipper Bouchereau led her troops past Cascade 'A' by first equalising at one set all (25-21) and then winning another two sets in a row – 25-15 and 25-21 – in more than one hour of play which lacked the kind of intensity and passion observed in past matches between the two sides.
Veteran Seychelles international Bouchereau agreed that the match was not up to the level and saying that "Cascade 'A' did not push us to the limit and we did not feel the need to up our tempo as we followed their rhythm."
The victory is Arsu's sixth on the trot and they have 18 points, one less than Cascade 'A' who have played seven times.
While Cascade 'A', with just six players for the encounter, have lost some key players this season, Arsu's coach Camille, who left the country immediately after the match for an overseas training, must start learning how to cajole players as two of them – Nathalie Domingue and Rita Ladouce – burst into tears when the trainer screamed at them on the court saying that they were not following the team's playing strategy. After coming back to their senses, Domingue and Ladouce played a part in Arsu's victory.
Premium Spikers tame Beau Vallon
In the men's top flight encounter between Premium Spikers and Beau Vallon, the latter looked stronger at the net in the opening set which they won 22-25.
With veteran and captain Bernard Bijoux sitting out the match with his right foot in plaster, Beau Vallon lacked a leader on the court and despite getting the first set win, they could not maintain the momentum as they committed a number of mistakes and moreover, luck was just not on their side in the evenly-contested remaining three sets.
Premium Spikers, with coach Bernard Denis replacing captain Jean-Paul Lepathy in the second set with veteran François Ally who did a good job, contributed in bringing a lot of the entertainment to the match as they won the next three sets 25-23, 27-25 and 25-21.
During 81 minutes of action, the two teams showed that Seychelles' volleyball should still be reckoned with as their various plays kept spectators on the edge of their seats and wanting for more, only if Beau Vallon could send the match into a fifth and decisive set.
The defeat marked an unhappy return to the Palais des Sports for former women's national team coach Maurice Denys who did not fail to help in the coaching even though he was registered on Beau Vallon's team sheet as a medical doctor.
Bernard Denis, who has collected his third win over Beau Vallon, the others coming in the Curtain-raiser competition and the SVF Shield, since taking over as Premium Spikers coach at the start of the season, told Sports Nation that he was happy the match was played in a good spirit in front of a number of spectators, which proves to be a good sign for Seychelles' volleyball.
"Also, matches are played on the court and not in newspapers or by the roadside.
Teams have to prepare themselves, and only the best best-prepared ones win," he said.
Victory over Beau Vallon was Premium Spikers' seventh in as many matches and they shoot to first place in the standings with 21 points, while Beau Vallon retrograde into second position with 19 points after six wins and a defeat.
Beau Vallon's captain-of-the-day Guilly Bijoux, who had a good game but could not guide them to victory, was made to swallow his comment "Bring on Premium Spikers now, we want them badly" made after they defeated then leaders Racing Club last month.
Sports Nation will bring you the results of the other matches played on Saturday and Sunday during the course of the week.
G. G.