Athletics: Track and Field Meet-Laurence sets 400m girl record, Woodcock equals youth high jump best
26-July-2004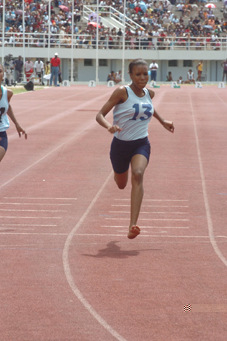 After not taking the start of the 100-metre race of Saturday's Track and Field Meet as coach Giovanni Fanny wanted her to be at her best for the 400 metres, Laurence did not disappoint her trainer on the tracks of Stad Linite.
The Anse Boileau Secondary School student, who has got to work on widening her strides and continue polishing her running techniques to improve on her times, clocked 1 minute 00.1 second (1:00.1) to establish a new girl (under 16) record.
When most of the other competitors were out of breath after the race, Laurence walked to coach Fanny who congratulated her.
In the men's high jump, Praslinois William Woodcock sailed over 2 metres for the third time in less than two months to once again equal his youth record.
The Grand Anse Praslin Secondary Five student had first set the best youth height of 2 metres on June 12 during the first Track and Field Meet and then equalled it for a first time on July 10 during the National Athletics Championship.
In the senior category, record holder Eugène Ernesta cleared 2.10 metres, 20 centimetres short of his 2.20-metre record, while Jude Sidonie, whose personal best in 2.12 metres, finished with a best height of 1.90 metre.
Evans Marie, who is to represent Seychelles in the 400 metres at next month's Olympic Games, was never challenged in the men's one-lap race as he hit the tape in 47.8 seconds, four hundredths of a second slower than Stephen Banane's hand timing record of 47.4 seconds.
Back home after having competed in the IAAF World Junior Championship in Grosseto, Italy, where he set a Seychelles youth record of 10.94 seconds in the 100 metres, Mervyn Loizeau clocked 11.2 seconds in the blue-ribband race.
It is to note that Mikola Avilov, who worked here before leaving in 2001, is back as coach and was at Stad Linite on Saturday to watch local athletes in action.
Meanwhile, the Seychelles Amateur Athletics Federation has said that instead of the annual Regatta road race, it will on Saturday organise a 10-km race, starting at 4 p.m. at Mont Fleuri. Those who would like to participate should contact Paul Nioze on 225958 during office hours.
G. G.