4th Comesa Meeting of Heads of Customs Administration-Increasing trade security, customs ties top agenda
27-July-2004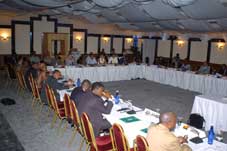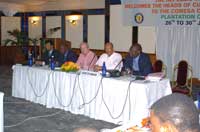 The four-day meeting, held at the Plantation Club Resort in Baie Lazare, was officially opened on Monday by the Minister for Economic Planning, Jacquelin Dugasse. The participants attending are heads of customs departments of member countries and speakers from World Customs Organisations, the European Union and the ASEAN (Association of South East Asian Nations).
The meeting is being held under the theme "Increasing trade security and enhancing customs cooperation."
During the meeting delegates will review the Comesa Customs Programme drafted at the last customs heads meeting a year ago in Harare, Zimbabwe to ensure efficient customs administration to facilitate the flow of intra-regional trade of goods and services. The programme includes Comesa rules of origin, customs legislation, procedures, training, computerisation and integrity.
The meeting, Minister Dugasse said, is taking place against the backdrop of significant developments in Comesa now that more member countries are joining the Free Trade Area (FTA), leading to a widening of the Comesa market.
"Early this year, Burundi and Rwanda joined the Free Trade Area, bringing the number of participating countries in the FTA to 11. The participation of Burundi and Rwanda in the FTA has without doubt enlarged the size of the Comesa market," Minister Dugasse said.
As a result, total intra-Comesa trade has increased by 15 percent from US$4.5 billion in 2002 to US$5.3 billion last year. The increase, Minister Dugasse pointed out, posed a challenge to Comesa customs administrations.
But the enlargement of the European Union with 10 new members and the economic growth of some of the Asian giants, he added, is a greater challenge as it will mean more competition for developing countries within Comesa.
"The challenge is how to remain competitive and reserve our market share for our traditionally labour intensive products for example textile, in the light of increased competition with low labour entrants into the EU," Minister Dugasse said.
In their quest to improve competitiveness, member countries should work towards modernising the efficiency and effectiveness of customs administrations, Minister Dugasse said.
"Modernisation and reform of customs procedures and operational systems through the use of information technology (IT) is a must if we are to successfully face the challenges that come with these global developments," he added.
According to Charlie Morin, the Comptroller of Trades Tax and Customs, the meeting is an opportunity for member countries to examine, discuss and give their views on customs regulations being implemented.