Commonwealth delegates meet to discuss human resource development
27-July-2004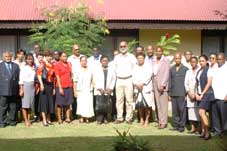 Drawing representatives from Malawi, Kenya, Mauritius and other countries, the workshop is a collaboration between the Ministry of Administration and Manpower Development and the Commonwealth Secretariat.
Held at the Seychelles Institute of Management at Ma Joie, the week-long discussions are being facilitated by Wynette Harewood, a human resource management consultant from the Institute of Business from the island nation of Trinidad and Tobago. Ms Harewood said the institute, as part of the University of West Indies, has facilitated similar Commonwealth workshops in Botswana and Swaziland, as well as in the Caribbean.
Minister of Administration and Manpower Development Noellie Alexander spoke of the critical importance of the workshop during Monday's opening ceremony, which was also attended by Minister for Social Affairs and Employment Vincent Meriton and Health Minister Patrick Pillay, in addition to other senior government personnel.
Anita Amoa Awua, senior programme officer with the Commonwealth Secretariat, said the workshop marks an exciting time in the relationship between the Commonwealth and the government of Seychelles.
She said that with the global environment continually growing, it was necessary that both developed and developing countries keep abreast of the changing demands for self development and self learning.
According to Ms Amoa Awua, human resources development is especially critical in small countries like Seychelles, where members of a small workforce must have the right skills to contribute to a nation's development.
Marina Confait, the director general for the Manpower Development Division in the ministry, said the workshop would be a good opportunity for countries to come together and share the latest practices and policies concerning human resources.
Participants are expected to present an outline for a human resources development plan and a post-workshop action plan by the end of the week.