Transnational efforts needed to arrest Aids pandemic – minister
27-July-2004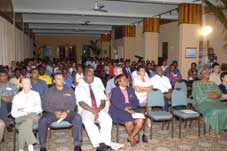 "HIV/Aids has today become a preoccupation at national, regional and global levels that can best be addressed through collective commitments and efforts," said Minister Faure.
Minister Faure was speaking at the opening of the Commonwealth African Sub-Regional Workshop on the Integration of Youth Issues and Youth Participation in HIV/Aids Planning and Programming in Eastern Africa being held at the Mahé Beach hotel.
The workshop, attended by representatives from Kenya, Tanzania, Uganda, the Commonwealth and Seychelles, is intended to carry across best practices from within and beyond the region to combat the spread of HIV/Aids amongst young people.
The disease is taking an exceptionally high toll amongst young men and women, an estimated 7000 of whom are infected every day, according to the minister.
"Evidence has shown that in countries where young people have been given opportunities to participate actively in HIV/Aids related decision making processes, strategies and plans of action, they have made significant positive differences in the fight against HIV/Aids. There is a need therefore to effectively engage youths at various stages of HIV/Aids programme development, policies, legislation, plans of action and implementation strategies," said Minister Faure.
People in the 15 to 24-year-old age bracket are thought to account for half of the five million new cases of HIV infection worldwide and in Sub Saharan Africa, the region hardest hit by the pandemic, an estimated 7.3 million young women and 4.5 million young men are living with the virus.
Addressing the opening session Florence Mugasha, the deputy secretary-general of the Commonwealth, said:
"We all agree that young people are empowered when they know that they have or can create choices in life, when they are aware of the implications of their choices, when they are aware of the implications of their choices in life, when they can accept responsibility for the consequences of their decisions. Empowering young people means creating and supporting the enabling conditions for young people to act on their own."
Mrs Mugasha went on to say that countries such as Uganda, Senegal, Thailand and Brazil had proven that the spread of HIV and Aids can be ameliorated and that this is achieved largely through giving young people the means to protect themselves.
The meeting is due to conclude on Wednesday afternoon.