Work towards new health promotion policy begins
28-April-2005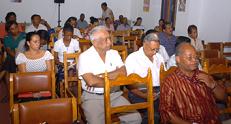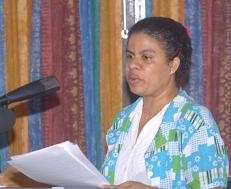 The discussions started on Monday among health professionals during a session facilitated by a World Health Organisation-commissioned consultant from Malawi, Professor Davidson Munodawafa.
On Tuesday, the professor met with stakeholders from different sectors of the community and discussed the major health problems in the country which he said are related to cardio-vascular diseases.
"We are consulting with technical groups comprising youths, different ministries for example those responsible for Education and for Local Government, non-governmental organisations, the churches and key importers like the Seychelles Marketing Board," the director for non-communicable diseases Dr Anne Gabriel said.
She said the players named and others have been included because they can contribute directly or indirectly towards the public's holistic living.
"SMB for example is responsible for the importation of food which can have a bearing on the health of consumers, and the other agencies consulted are able to contribute through sensitisation," Dr Gabriel said.
MHSS said that the proposed policy is intended to shift the focus from information dissemination to behaviour change, "an element that requires a completely new approach to health promotion."