Over 100 computing trainees certified
28-April-2005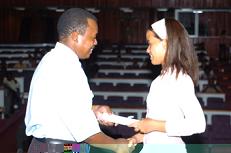 The certificates, which are internationally accredited by the London Chamber of Commerce and Industry Examinations (LCCI), were presented by Daniel Port-Louis, the managing director of Compufast, at a ceremony held last Saturday at the International Conference Centre.
The candidates, who sat for their exams in June and November last year, have completed courses in four modules, namely Microsoft Word Processing, Microsoft Excel, Microsoft Access and Microsoft PowerPoint, which are offered in three levels -- basic, intermediate and expert -- on an hourly basis.
Mr Port-Louis said he was satisfied with last year's 87% past rate, though it represents a slight decrease compared to the previous year's 93% pass rate.
He said that students are not under any pressure to meet the deadline for the exam sitting date as they have the choice to either complete their courses within a six-month period or one whole year.
He attributed the decline in percentage pass rate to the irregular attendance by some students due to financial reasons.
Compufast Learning Skills has three training centres namely at Anse Aux Pins, Plaisance and Grand Anse Praslin. The majority of trainees enrolling for the courses are secondary school students seeking basic computer skills to be able to do school projects.
Compufast's test papers are prepared and corrected by the LCCI Examinations Board.