Football-Brutus close to signing pro deal with US Cremonese
28-April-2005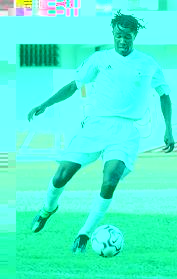 Even Pitso Mosimane, coach of South African outfit SuperSport United FC, described him as "a good striker with good vision and able to cause the opposing team's defence a lot of problems" after he opened the score against them with a skillfully crafted goal at Stad Linite in Red Star's 1-4 home leg defeat in the first round of the African Confederations Cup earlier this year.
Wilnes Brutus, an ever-present with the Red Star team, is a striker with good techniques, able to steal the ball from opponents, very fast, is moving all the time and more importantly scores goals regularly.
All these qualities must have given reigning footballer of the year Brutus some big pluses during the five-week training camp with Italian side US Cremonese who, according to Red Star president Walter Confait, have decided to offer him a professional contract.
Serie C1 champions US Cremonese, who have earned promotion to Serie B, are expected here sometime next month to play at least two friendly matches.
Current group B leaders Red Star could well be one of the two teams in action against the Italian outfit.
The same Confait also told Sports Nation that at the end of their Seychelles tour, US Cremonese will bring their new striker with them to Italy.
"I'm very happy about receiving the professional contract. At first, I was a bit reluctant to accept the offer because René-Yves (Raonizory) has just left for Reunion (with Rivière Sport). But my teammates encouraged me to accept the offer, saying that I would regret it one day if I let such an opportunity go by. I know how the team play after training with them earlier this year. What I need to do is work on improving my strength and adapt to playing fast football," said 23-year-old Brutus, whose big brother Jeffrey also plays for Red Star.
G. G.