World Day for Safety and Health at Work-Minister calls on workplaces to put safety atop their agenda
29-April-2005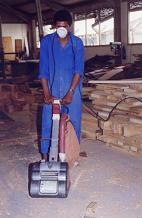 "I urge all employers to allocate the necessary resources and put in place structures, safety procedures and control mechanism to ensure that the incidence of workplace occupational injuries and diseases are minimized," said Minister Dugasse.
Minister Dugasse, who also holds the Economic Planning portfolio, made this appeal in his message on the occasion of the World Day for Safety and Health at Work celebrated on Thursday.
The World Day for Safety and Health at Work is intended to focus international attention on promoting and creating a safety culture at work and help reduce the number of work-related injuries and deaths each year.
In his message Minister Dugasse noted that the global impact of occupational accidents in terms of human suffering, deaths, disabilities and related economic costs have been a long standing source of concern to many Governments across the globe, adding that it is equally of concern to the Seychelles Government, its stakeholders namely employers, workers and non-governmental organizations.
"Decent work is safe work but the world is a long way from achieving that goal. It is estimated that every year some two million men and women worldwide lose their lives through accidents and diseases linked to their work," said Minister Dugasse in his message.
He said that the impact of occupational accidents and diseases in Seychelles' workplaces is cause for concern as it has brought substantial human suffering to many families.
For the first quarter of this year alone, he said, 41 occupational injuries have been reported to the Department of Employment, compared to 30 for the same period last year. "More significantly, the fatalities recorded during the first quarter of the year stands at four. These statistics are without doubt alarming for a small country like ours and as such called for concerted action by all stakeholders to address such carnage on our workplaces.
Fatalities, accidents and illnesses at work are highly preventable," Minister Dugasse said.
The minister noted that all persons at work have responsibilities for safety, whether they are employers, employees or self-employed persons.
"Accidents cause pain and suffering, sometimes death. The responsibilities to convey the news to the workers' family may fall to you. Breaking the news to members of the workers' family will be more painful, if you know that with a little more foresight and precaution on your part, the accident might have been prevented," said the minister.
"We need to ensure that the highest level of health and social well being of workers is maintained throughout their working life. Our focus should be on creating a decent and safe work environment.
"As a young and developing nation, we cannot afford to lose our trained and skilled cadres to occupational diseases and accidents.
"The Government through the Department of Employment in collaboration with other stakeholders will continue to pursue efforts to ensure that work place becomes safer and better protection is provided to our workers," the minister added.