Golf: Grant's trophy competition-Andrade toasts victory
29-April-2005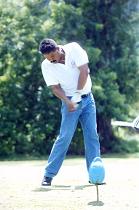 Runner-up to Andrade was Peter Moncherry with 37 points, while Catney Laporte, who lost on a countback, settled for third position also with 37 points.
The best front nine was achieved by former club captain Alix Esparon and the best back nine by Jonn Savy.
Savy went home with another prize after finishing nearest to the pin. Young Patrick Asba hit the longest drive to receive the award of the same name.
Dr Moorthy Pillay presented the prizes at the end of the competition.