President signs pledge to up adult literacy-100 percent literacy goal for 2012
30-April-2005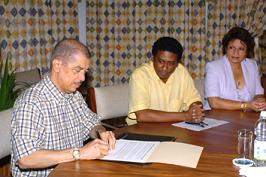 The president signed the pledge at a short ceremony at State House in front of Minister of Education Danny Faure and other education officials.
Speaking to reporters after the signing, Minister Faure said the pledge was a show of support from the government to provide education to all, and spoke of Seychelles' goal to achieve virtually 100 percent literacy by 2012, the last year of the United Nations Literacy Decade.
In 2000, more than 1,100 participants at the World Education Forum in Dakar Senegal adopted several goals falling under the United Nations Educational, Scientific and Cultural Organisation's "Education for All" banner, one of which calls for a "50 percent improvement in levels of adult literacy by 2015 and equitable access to basic and continuing education for adults."
He said that although Seychelles had achieved 91 percent adult literacy, the ministry was re-looking at the structures currently in place, such as literacy centres in individual districts, to increase access to adult education for those who desire it.
Structures on Praslin, for instance, needed to be created for coverage there, the minister said, and on Mahe the ministry is embarking on a pilot programme next month for 45 of its own employees to engage in adult literacy programmes during working hours.
Odd working hours, family responsibilities and a number of other factors can sometimes prevent adults from being able to follow such courses. The pilot programme would make room for those who are "interested and motivated," but cannot spare the time outside of work, he said.
If the programme is successful, the ministry could expand it to other ministries and even large private organisations, like Indian Ocean Tuna, where many employees face similar time constraints due to shift work.
The programme would "allow our citizens to work and at the same time study," Minister Faure commented, saying that the benefits of literacy would make for more productive employees.