Cricket: Mike Holmes trophy competition-Vijay overcome Super Kings in final
30-April-2005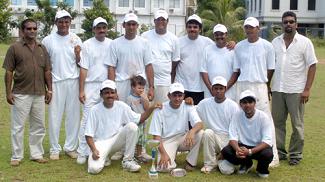 At the Freedom Square playing field, the match started with both teams being introduced to Muditha Gunathilake of sponsor Double Click. Elected to bat, Vijay started well with openers Patrick and Manish. Two brilliant run-outs of both openers by Tim and then quick dismissals of Arvind (4 runs) and Kaushal Patel (5 runs) had Vijay in distrait with all their four top batsmen back to pavilion.
At that stage, everyone expected the tail to wind up quickly, but a well-built knock of 23 runs by Deeraj ensured that Vijay had a fighting total of 107 (all out) on the board in 26.1 overs.
There were also some useful contributions from Bharat (6 runs) and Vasudev (12).
For Super Kings, their most successful bowlers were Tim and Hari, taking 2 wickets each, while Deepak, Krisha and Farook took one wicket apiece.
Replying to above modest total, Super Kings' batsmen always looked in sight of victory target. But some accurate and tight bowling made the batsmen work hard for their runs. However, the wickets continued to fall at regular intervals and they lost Farook (8 runs), Krishna (without scoring), Deepak (13 runs), Tim (3 runs), Shiva (15 runs), Jimmy (8 runs) and Hari (5 runs).
The final blow was delivered by Manish who got the first hat-trick of the competition, claiming Santosh, Prashant and Sharma.
The innings came to an end after 85 runs all out in 22 overs. Arup Das remained unbeaten at 3 runs.
Deeraj of Vijay was awarded the man-of-the-match award for his overall good performance. The award for the best batsman for the competition was given to Vipula of Luck Stars and the best bowler trophy to Santosh.
Scores in brief:
Vijay win by 4 wickets
Vijay – 107 runs all out (26.1 overs), Deeraj (23 runs), Vasudev (12 runs) and Patrick (11 runs). Hari (2 wickets for 16 runs) and Tim (2 wickets for 20 runs).
Super Kings – Shiva (15 runs), Deepak (13 runs), Farook (8 runs). Deeraj (3 wickers for 18 runs) and Manish (3 wickets for 5runs).