300 cottage industries to gross R12 million-SEnPA takes over registration of applicants
03-May-2005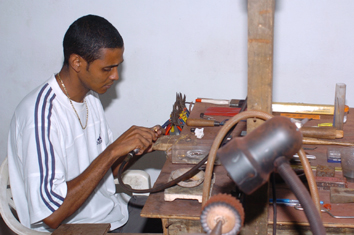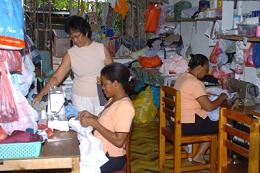 Over R6 million are being invested in the businesses which have created an additional 342 new jobs, which means that over 100 families are now depending on cottage industries for their livelihood.
SEnPA, the agency which as of May 1 has taken over the promotion and management of cottage industries in the country, said the initiative launched by President James Michel has begun to bear fruits, but there was room to cater for more businesses.
The managing director of SEnPA, Lucy Athanasius, said with the procedures guiding the setting up of cottage industries being very simple and straight forward, and given the wide range of extra benefits that await promoters, the agency is expecting more entrepreneurs to come forward.
For cottage industries to gain the additional benefits they have to register with SEnPA at Camion Hall. Entrepreneurs running a cottage industry will not need a licence to operate but only a certificate of approval to be issued by SEnPA, upon successful application.
Ms Athanasius explained that a cottage industry is a small part-time or full-time home-based business employing no more than five Seychellois "who use their in-house skills and ingenuity to generate a product or service which can be sold," and should generate an annual sales revenue that does not exceed R800,000.
Only light activities are allowed, such as art, handicraft, small scale manufacturing, agro-processing, basic equipment repair and maintenance, laundry activities, child minding, food processing and textile, just to name a few.
Ms Athanasius said SEnPA would also welcome other innovative ideas, as long as they are not harmful to the environment and meet the necessary criteria for cottage industries.
Registration is done free of charge and once registered, a cottage industry will be entitled to benefit from any tax concessions given to small businesses and gain speedier access to foreign exchange, allocated under the "small business remark." Applicants seeking these concessions will have to fill in application forms available at SEnPA's Small Business Bureau.
Furthermore, Ms Athanasius said, entrepreneurs will also have access to small loans, with the setting up of a new Micro-Loan facility under the existing YES scheme.
Under the Micro-Loan, operators will have to open an account with the Seychelles Savings Bank and can have access to a loan of not more than R10,000. They will not need to make any personal contribution. They will be given a grace period of two months to repay the loan. Repayment is at 1% interest. Application forms for the loan can be collected at SEnPA's office and will be entertained only if proforma invoices are brought forward.
Most of the cottage industries that have registered to date are in the categories of tailoring and crafts. Ms Athanasius said that 21 of these are very active and doing extremely well.
The development of such industries is aimed at boosting the country's economic growth by increasing productivity and employment opportunities. Given the increase in unemployment with the figures climbing above 2,000, Ms Athanasius said cottage industries represent an ideal opportunity for young people "to start somewhere, discover their creativity and talent and be proud that they are generating their own earnings."
"In the end they are the ones who will benefit as more revenues will be coming into the home, hence improving the family's budget," she said.
Citing the example of a woman who saw her leisure activity of making hair clips at home for her daughter grow into a big commercial business, Ms Athanasius said cottage industry has the potential to open new doors for entrepreneurs with creativity .
"The better they get at what they do, the more chance there is that their products match the standards of what is produced abroad and hence in their own way they can contribute to import-substitution," she said.