Activists aim to bring climate change to personal level
29-December-2008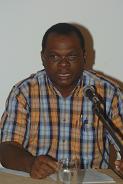 Mr Dogley launching the workshop
They took part in a one-day workshop at Care House which aimed to bring knowledge of the subject down to individual level.
Delegates also reviewed past achievements in the field and explored future directions for carrying out measures to adapt to climate change and reduce its effects
The meeting took place under the auspices of the Sustainability for Seychelles initiative, in collaboration with the United Nations Development Fund (UNDP), and was attended by partners from the National Committee for Climate Change, staff from the Department of Environment and leaders of environmental clubs at schools across the country.
Principal secretary for environment Didier Dogley was the guest of honour at the meeting. After delegates had watched a short film showing the extent to which climate change could affect small island states in the future, he said the danger came not only through the impact it will have on the environment and its biodiversity but through its effect on our livelihoods and economies.
"We have had little opportunity to educate the individual and to bring awareness down to individual level," said Mr Dogley.
"We have not taken time out to show the individual how he contributes to climate change and neither have we spent much time in teaching him how best to cope with it."
He added that projects carried out with reference to international conventions signed by Seychelles lacked an aspect of education and awareness, or this simply was not considered important.
Because of this, the average citizen never gained much insight into these projects, nor did he get to know what his contribution should be or what change in his lifestyle would help to delay climate change.
He called on the delegates to be forthcoming and to speak openly on the issues, as they will form part of the second national communication on climate change that Seychelles is now preparing.