Athletics-Cross-country series to start on January 10 on Praslin
29-December-2008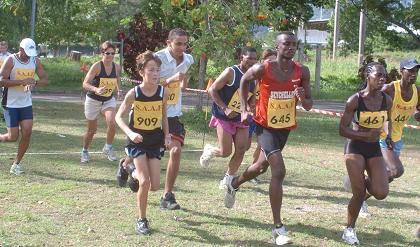 The series will then move to Mahe, precisely at the Roche Caïman fitness trail, for the other three races on January 17, January 31 and February 7. All races will start at 3 p.m.
The best male and female runners from Praslin in the senior categories of the Praslin leg of the series will compete in the three races on Mahe.
Like in 2008, the competitors will cover the same distances in all four races of the series organised by the Seychelles Athletics Federation (SAF).
The distances to be covered by the runners in the different age group categories are: boys and girls under 16 (1 lap = 2km), male and female youth under 18 (2 laps = 4 km), junior female under 20 (3 laps = 6km), junior male under 20 (4 laps = 8km), senior female over 20 (4 laps = 8km), senior male over 20 (6 laps =12km), veteran female (3 laps = 6km) and veteran male (4 laps = 8km).
The 2008 category winners were Stephanie Underwood (girls under 16), Julio Brown (boys under16), Stephanie Augustin (girls under 18), Randolph Prudence (boys under 18), Simone Jaffa (women's senior, over 20), Simon Labiche (men's senior, over 20), Alexandra Kment (female veteran) and José Victor (male veteran).
To qualify for cash prizes in the different age categories, the competitors must take part in a minimum three races.
Individuals who would like to compete in the four-race series have to register with Joseph Volcy on 225958 during office hours. If they decide, at the last minute, to compete, they have to be at the starting line at least 30 minutes before the start of the race.
For any race to take place there must be a minimum five competitors.
Runners like Andrew Florentine, Randolph Prudence, Victoria Alis, Simone Jaffa and Simon Labiche re-wrote the record books in the 2008 series and it is very likely they will take the start of the races to challenge their own best times.
All five runners played their part as the series enjoyed a good finale with five records on Saturday February 9 – a day when the weather condition was just right for long distance running.
The record holders are Victoria Alis (2km in 8:31.5 for girls U16), Julio Brown (2km in 8:16.1 for boys' U16), Phylis Labonne (4km in 15:35.2 for female youth), Randolph Prudence (14:14.8 for male youth), Andrew Florentine (8km in 30:59.7 for junior male), Simone Jaffa (8km in 33:24.8 for senior female), Simon Labiche (12km in 39:04.4 for senior male), Alexandra Kment (6km in 31:30.7 for female veteran) and Herbert Adrienne (8km in 32:32.2 for male veteran).
While Labonne's, Kment's and Adrienne's records were set in January 2007, the others were clocked this year.
G. G.