Athletics..-Coach Fanny receives diploma in coaching certificate
29-December-2008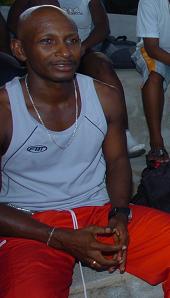 The former hurdler received his diploma in coaching after he recently followed a two-week course in South Africa.
Sponsored by the International Association of Athletics Federations, the course took place at the University of Pretoria.
Fanny learned anatomy, physiology, psychology and leadership skills to name a few during daily nine-hour lectures (from 9am to 6pm). There were also practical sessions, where he had to put into practise what he had learned.

The 42-year-old, who has been working as a coach for the past six years, said he is planning to attend further training in Germany next year with professor Ralph Mouchbahani – a course director at the University of Pretoria.
Fanny added that he is expected to run courses for local coaches and athletes early next year to share with them what he has learned.
Asked to comment on the level of Seychelles' athletics this year, Fanny said: "Athletics here has been on the decline. I think it's mostly because of a lack of motivation.
"I will encourage more athletes to take up coaching and at the same time, I would like to share what I learned with my colleagues. Hopefully, the situation will improve."
I. H.