STA keeps pace with changes in tourism industry
30-December-2008
This, according to a spokesperson for the academy, is to help them polish and upgrade their existing skills so that they will be able to subsequently train students to the real needs of the industry.
"STA and its partners cannot afford to stay static to principles inherited from the past, therefore as from December 2008 groups of trainee lecturers and lecturers with degrees have returned to the industry on a work attachment programme designed by STA and professional partners supported by general managers and senior management of reputable hotels in Seychelles," the spokesperson said.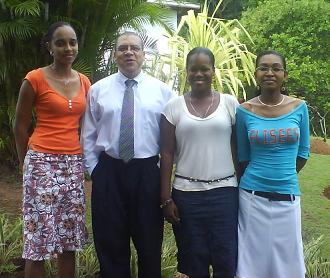 These hotels include the Hilton Resort and Spa, Le Meridien Barbarons Hotel and Ste Anne Resort.
In addition one trainee Food Production lecturer is at the ISPC with a programme to turn fresh products into delicatessen, a module which will be introduced in the Food Production Programme at STA.
The lecturers will spend a total of 2 months over the festive and New Year seasons and will work and be treated like normal staff in their category.
Other more senior lecturers with degrees being groomed to take over senior positions at STA in the future will spend one whole year in the industry (at the Ste Anne Resort and Spa and the Banyan Tree Hotels and Resorts).
"Apart from personal benefits to the lecturers, these work attachments will help the STA to continue in its efforts with training programmes geared to the needs of the industry and for STA to become an autonomous training institution ready to face the challenges of the future," the spokesperson added.
Commenting on the rationale behind these training programmes, the spokesperson said the world of hospitality and tourism markets have changed so dramatically that the major hotels have had to totally re-evaluate and re-structure their methods of operations.
"Consumers are becoming more and more sophisticated. Competition is now fierce as hotels offer more incentives to develop brand loyalty, excellent services through better trained staff, dedicated staff with positive attitude and genuine customer care approach," said the spokesperson.