Care joins youngsters to promote sports over substance abuse
30-December-2008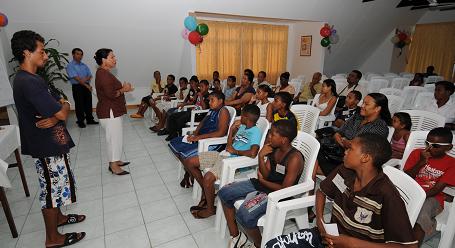 Their aim is to use sports, precisely football, as a way of prevention thus pulling the youth away from dangerous substances.
In this programme Care is focusing on character building and behaviour modification to build resilience against substance abuse.
Parents were updated about the progress and future plans for the programme during a meeting with the coordinators recently at the Care House in Victoria. The meeting was also attended by the director of Care Noella Gontier.
Addressing those present, Care's manager for training and counselling Robert Ah-Weng said they decided to initiate the project after they noticed the commitment and devotion of youth worker Michel Emille, who is also responsible for the River Star Football Club.
He explained that from the balcony of the Care House, they admired Michel's hard work in keeping the youth focused by applying a fair level of discipline.
Mr Ah-Weng said they decided to join forces by bringing in more moral values which he said will better lead the youngsters towards a healthier and more respectful life.
He added that youngsters come from as far as Anse Boileau to play for River Star, which is a town based team. This, he said, is proof enough that Care's contribution to the programme is attracting more youth.
Mr Ah-Weng said Care will have a meeting with youth workers from other districts to encourage them to start a similar programme, which he said will contribute greatly in shaping our young people, the pillars of tomorrow's society.