President champions cause of small island states
31-December-2008
In Japan, Rome, New York and Qatar he has championed the cause of the smaller, less developed nations, stressed the dangers of the "middle-income trap" and called for action
from the richer countries to tackle the global crises they have played a large part in causing.
Tokyo International Conference on African Development (Ticad), June 2008 – climate change affecting small island states:
At this meeting, the President spoke at length about climate change, noting that limiting its extent and effects requires collective global effort and political commitment.
"Climate change is real, and we can observe its effects in different ways in different areas of the globe," he told the delegates.
"For those regions where economic and environmental systems are already under stress, it is to be expected that the extra burden of climate change will cause further instability – an instability that will reach far beyond the boundaries of those regions and affect each and every one of us.
"Climate change is taking its toll and its effects are evident. Drought, erosion and floods are affecting harvests. These, coupled with the quest for biofuels, are forcing food prices beyond the reach of millions."
Noting that small island states remain particularly vulnerable to the threat of climate change, Mr Michel said it was with this in mind that in September 2007 he launched the Sea Level Rise Foundation to coincide with the UN Secretary General's High-Level Event on Climate Change.
This foundation is aimed at galvanising global action to address the devastating impact of climate change on our planet, and at bringing together support for small island states, larger islands and other low-lying areas in adapting to sea-level rise.
Mr Michel urged the delegates to support the foundation and "provide this additional catalyst to bring together knowledge, technologies and resources to address this urgent and crucial issue".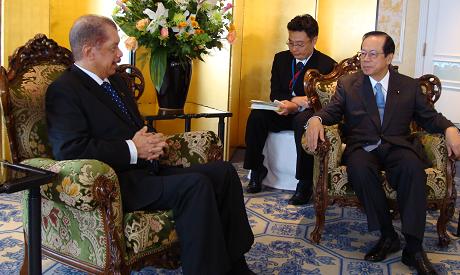 He welcomed Japan's recent initiative to launch the Cool Earth Partnership programme, which will allocate grants to low-income countries to tackle adaptation and gain access to clean energy, as well as provide funds to tackle the effects of climate change.
"Through the Ticad process, our countries must remain a strong voice in the global combat against climate change and environmental degradation," said Mr Michel.
"The people of Seychelles are committed to this challenge. Today, we stand in solidarity with all like-minded nations and convey our determination and optimism in the battle to protect our environment, which is indeed our future. We cannot afford to procrastinate."
High-Level Conference of UN Food and Agriculture Organisation, Rome, June 2008 – food security in small island states, energy and fair trade:
At this meeting, President Michel called for the new United Nations task force on the global food crisis to tackle as well the "inextricably linked" question of the energy crisis.
Welcoming the decision to set up the task force, he said, however, that the food situation could not be solved without solving the energy crisis.
"Let us seriously look at helping poorer countries to develop alternative sources of energy – hydropower, solar and wind energy," he told delegates.
"I would also ask the task force to consider the special case of small island states when proposing solutions to this crisis. I would ask them to take into consideration our vulnerabilities.
"The price of food in Seychelles and other small islands is escalating beyond the means of island people, essentially forcing many of us back into poverty. We have implemented various measures to alleviate the hardship brought about by the global increase in food prices, but we are slowly running out of options."
Mr Michel opened his speech by saying that the hunger, malnutrition and starvation that are the lot of millions of the world's people make a mockery of human dignity and of humanity's most basic need and its most basic right – the right to adequate food.
"Food security is at the core of our very survival," he said. "While food accounts for just 10% of expenditure in households in the developed world, it can account for as much as 80% in the developing world.
"The recent surge in grain prices has led to huge increases in the price of bread, milk, meat and other commodities. More than ever the threat of starvation on a global scale looms. With it looms the threat of violent upheaval."
The President said the immediate challenge is how to bring adequate food at affordable prices to ordinary people. Recently there had been riots in some countries over soaring prices and at least one government had fallen.
"The divide between rich and poor is widening by the day," he said. "If we do not act now, it will create more refugees in search of basic human needs – food and shelter."
Mr Michel stressed that food security, climate change and, more recently, bioenergy are closely linked. As islanders we know full well the meaning of climate change, experiencing it through shrinking islands, changing weather patterns and dwindling fish stocks, he added.
He returned to a subject he raised at the Ticad conference – that Seychelles does not get a fair return from its fish stocks, its "blue gold".
"Fish may seem abundant, but persistent over-harvesting and illegal fishing resulting from the growing global trade in seafood is eroding food security in our small islands," he said.
"Nor are we reaping the proper benefits from our blue gold. Some 380,000 tons of tuna are caught and transshipped from the Seychelles Exclusive Economic Zone every year, mostly by European Union countries.
"This is worth €3.8 billion on the international market. The revenue that Seychelles derives from this in licence and transshipment fees is a mere €15 million.

"Is this fair? Is this just? We are unequal partners in this global trade. As long as the terms of global trade – free trade, as we are wont to call it – remain skewed, developing countries will continue to suffer deprivation."
United Nations General Assembly, New York, September 2008 – economic and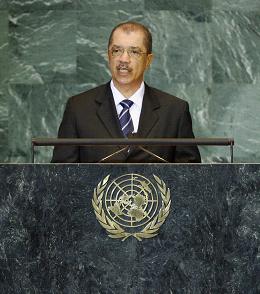 environmental vulnerability of small island states, global trade, 'middle-income trap':
In his speech to the assembly, the President called for strong action to address issues of trade, food security, challenges arising from climate change and development constraints faced by Small Island Developing States (SIDS) in an increasingly globalised world.
He placed particular stress on the fact that the adverse effects of climate change are a major barrier to achieving sustainable development goals in SIDS like Seychelles, which are recognised as being the most vulnerable to such changes.
"It is not right that small island states have to run the risk of being submerged by rising sea levels, while some nations refuse even to acknowledge their responsibility for the high levels of environmental pollution which are now threatening the planet's resources," he said.
He insisted, though, that Seychelles – despite its small size – would continue to be a leader.
"Despite our small size, we shall continue to lead," he said.
"And we shall lead by example. By our example, we have shown and will continue to show to all that sustainable development and the Millennium Development Goals are achievable in our present generation."
On the question of the global trade regime, Mr Michel pointed out that the existing unbalanced trade relations, which favour the world's major economies, further hamper the efforts of SIDS and other developing nations.
"It seems acceptable to some that wealthy countries are allowed to give subsidies to their farmers, as a result of which exports from developing countries become uncompetitive," he said.
"Yet developing countries are obliged to follow World Trade Organisation rules to the letter, even to the extent that they may undermine domestic economic policies formulated to protect vulnerable sections of society."
Mr Michel also called on world leaders not to allow the "middle-income trap" to hold back the development hopes of countries such as Seychelles.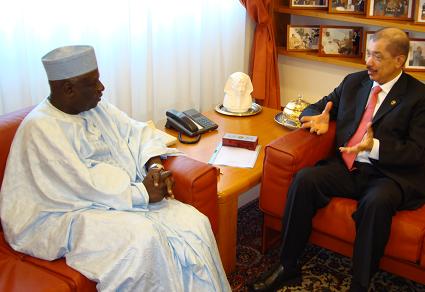 "The fact that we have a high human development index, ranked 50th in the world, and that we fall in the middle-income group of countries, excludes us from access to grants and soft loans that would have helped our country develop even further and faster," he said.
"And this is despite the fact that donor organisations have confirmed that all aid, grants or loans that were given to Seychelles have been properly and accountably utilised for the benefit of our people.
"It is as if we are being penalised for our success in raising the standard of living of our people. We have fallen into the so called 'middle-income trap'."
The President also stressed the need for a revitalisation of the United Nations in a manner favourable to the needs of small island states, an evolution that should reflect the ideals and address the pressing needs of today.
He called for more concerted effort, making the best use of resources, and more global action rather than global debate, to address the pressing issues of high food and energy prices.
"Can we honestly say that we have got our priorities right?" he asked the delegates.
"Can we say that we live in a just world, where every man, woman and child enjoys the same rights? Are we, as leaders, living up to the noble goals for which the United Nations was set up? Let our conscience provide us with the answer.
"A revamped UN system is best placed to facilitate progress in all of the areas I have mentioned: food security, trade, climate change and energy. I am asking for a clear action plan.
"Multiple conferences and talk shops are not the solution. We need a fresh and effective approach to global governance and I am convinced that with the right level of resources, that with the political will and commitment, we can start to tackle those fundamental flaws in our global governance and trade regimes.
"I am asking the rich nations to support this endeavour and assume their collective global responsibility."
UN International Conference on Financing for Development, Doha, November 2008 – funding for developing nations, environmental investment:
At this meeting, President Michel stressed the need for a new system of financing to ensure sustainable development.
"Sometimes when we get rich, we forget about the less fortunate," he said.
"We forget that prosperity is not something that just happens when the right conditions are in place. Prosperity has to be nurtured and shared, and in this conference we have to devise new ways by which future prosperity can be shared for the benefit of all.
"The meltdown of the global financial markets has left many countries reeling. The collapse of the housing market, banks, and the currency of a few countries reflects how deeply entrenched the crisis is.
"Throughout this year, I have travelled to Rome, to Tokyo, to New York to highlight the issues we small island states face. I called for action. I pleaded for less hypocrisy. I pleaded that we move away from reams of resolutions to concrete action and swift implementation of decisions.
"I pleaded for more justice and fairness. Because I believe that small islands can be the barometers of the world, even if we are rarely on the front pages."

Mr Michel said whatever the crisis – commodity prices, food security, energy issues – small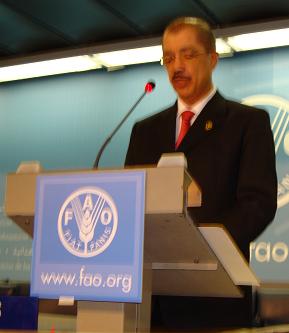 islands feel it first. And while cutting interest rates or providing corporate bailouts may provide acceptable fixes for large economies in the short term, they cannot make the current international system sustainable.
"In recent years, the concept of sustainable development has been high on the international agenda. But under current conditions of international financing, sustainable development will remain only a myth," he said.
"In Seychelles we are proud of our achievements in terms of being able to provide free universal education and primary healthcare.

"But we are now faced with a development paradox, a 'middle income trap'. There are many other small and medium countries in a similar situation that have effectively used development financing in the past, and now find themselves asking: 'Where to now?' as they watch their achievements being eroded by unfair principles and practices.
"Small Island Developing States and middle-income countries are not eligible for most forms of grants and concessionary funding. But we are often the ones that are most vulnerable to shocks. We are most often the countries that are most reliant on imports. And we are the ones with the least room to manoeuvre through economies of scale."
Referring to the stand-by arrangement negotiated with the International Monetary Fund, Mr Michel said Seychelles was making the necessary adjustments to ensure it emerges stronger and more resilient.
"We are extremely encouraged that the importance of investment in human capital has been recognised by most international development institutions," he said.
"Today we reiterate that human resources are our most valuable asset. Sustained investment in infrastructure is also essential, and we need to identify the financing mechanisms that will make this possible as a matter of urgency.
"We need new architecture for development financing. We need to look again at the concept of sustainability and think not only of the sustainability of individual countries but of the system as a whole."
Mr Michel went on to say that "green financing" is essential – investment in the environment, in conservation and alternative energy which are long-term and do not always bring immediate returns. Preferential terms should be available for all grants or loans linked to environmental sustainability, he added.
"Marginalisation from the world trading system is a real risk for many countries and communities. Let us carefully consider the benefits of different trading regimes. Those that provide advantages to the weak, vulnerable and marginalised should be enhanced. Yes, it is difficult. No, it is not impossible."