Baie Lazare youth learn about teenage pregnancy
14-April-2009
Details were shared with the young people through a one-hour PowerPoint presentation recently at the new Four Seasons Resort, Petite Anse.
The meeting was organised by the Seychelles People's Progressive Front (SPPF) Women's League in collaboration with the Ministry of Health and Social Development.
Also attending the workshop were the district's National Assembly member Wilby Lucas, district administrator Trefle Revera, representatives of the women's league and parents.
The meeting focused on creating awareness of sexuality and what it entails, and ways to reduce the number of teenage pregnancies through education.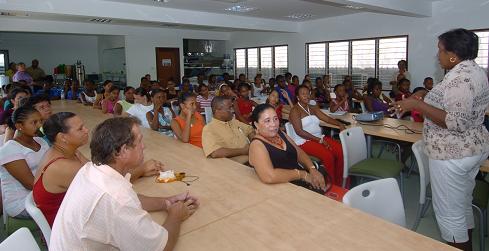 In her opening remarks before the seminar, Raymonde Onezime, a member of the women's league central committee, thanked the hotel management for providing the venue.
She said it shows the hotel's concern about issues such as teenage pregnancy, which is becoming alarmingly common in Seychelles.
"Such an act by Four Seasons shows that the hotel cares for the young people of Baie Lazare," she said.
Nurse and midwife Sylvie Bellard presented the audience with the figures for teenage pregnancy over the last 10 years, which she said are high for such a small population as Seychelles'.
The meeting formed part of the league's educational programme and is to be repeated in all regions. A first such gathering was held recently for a similar age group from the central districts.