More partners give to tourism marketing fund
14-April-2009
Four hotels last week handed over donations to the fund, while the Department of Internal Affairs said it is to spare tour operators the cost of 1,000 fast-track status grants for their clients.
The Coral Strand Hotel contributed $1,000, Round Island Praslin gave €3,500, the Banyan Tree Resort handed over R25,000 and promised to donate the same amount again in six months, and the Calypha Guesthouse gave R3,000.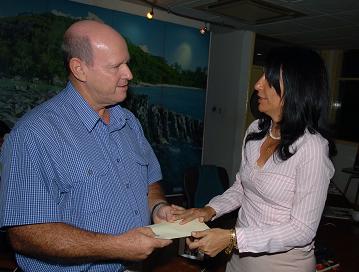 The donations were received by the STB's director of tourism marketing Alain St Ange, in the presence of staff at the board's Bel Ombre headquarters.
Mr St Ange said the donations further cement the good understanding the STB has been developing with the government and private sector alike over recent months, as it looks into new ways of promoting Seychelles as a tourist destination internationally.
He said the money will be used to further consolidate and improve the STB's many offices abroad, key to any form of success the local tourism industry can achieve.
"We plan to increase the number of local people working in our promotional offices overseas, for we believe they are better suited to promote Seychelles than anyone else," he added.
Mr St Ange was also very encouraged by the donation made by the Calypha Guesthouse.
He said this proves that all the various partners are claiming ownership of the industry, which is the way forward.