UK supports reforms and battle against pirates
22-April-2009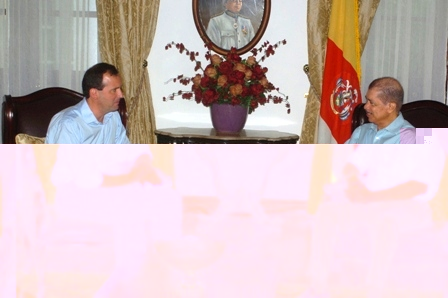 He was speaking after paying his farewell calls on President James Michel and Vice-President Joseph Belmont.
He said he was proud to have been here during the launch of our economic reforms.
"Diplomats relish postings to countries that are living through interesting times. And 'interesting times' well describes Seychelles today as you negotiate one of your most important periods since independence," he said.
"For some years the UK and others in the international community have encouraged Seychelles to tackle its unsustainable debt burden. Now that the challenge of economic reform has finally been gripped, it has been my privilege to work closely with the government and opposition over the UK's support through our membership of the International Monetary Fund board and Paris Club."
He said a new threat has appeared "literally over the horizon in the form of modern-day piracy – a term that romanticises despicable acts of armed robbery and kidnapping".
"The British government shares the deep concern of everyone in Seychelles over your countrymen and the many others held hostage in Somalia," he said.
"The Royal Navy is part of a European Union naval operation aimed at deterring and disrupting piracy in the Gulf of Aden. Urgent consideration is now being given to an extension of that operation into Seychelles' waters."
The UK is providing Seychelles with information such as the air reconnaissance photographs that confirmed the position of the Seychellois-crewed catamaran Serenity off the Somali coast, he added.
"A highlight for me was the UK parliamentary delegation visit last July that included a lord and a member of parliament (MP). This established links between your National Assembly and the British Parliament that, I hope, will strengthen and prove useful," he said.
Mr Cochrane-Dyet said despite the current global economic crisis, the fact remains that nearly every flourishing large economy is also a liberal democracy – there being a direct link between freedom and enterprise.
"The improvement of democratic systems is always work in progress, democracies are never perfect," he said.
"In the UK there is currently a furore over MPs' expenses. In Seychelles there are still hangovers from the past, like issues of freedom of assembly and equal access to the media for all political parties."
Mr Cochrane-Dyet said Seychelles has changed in the time he has been here, just as Britain has.
"In 2007 no one was forecasting that two years later the UK would have nationalised large parts of its banking sector.

"The recent London G20 summit underlines how the international community must cooperate and find collective responses to global problems. In that sense no country, not even Seychelles, is truly an island."
He said he is leaving Seychelles with mixed feelings – regret because he and his family have enjoyed living here and excitement at the prospect of his next ambassadorial post in an African country he is not yet at liberty to name.
He wished his successor well for his arrival in July.