Record-holding trimaran joins local charter fleet
23-April-2009
The new boat – Adventurer – will boost the company's fleet and its range of services.
She joins four other boats – Gabriel (general live-aboard cruising), Suzy Q (live-aboard diving), Platon (lagoon sailing catamaran) and Ventures (live-aboard fishing) – which are already operating.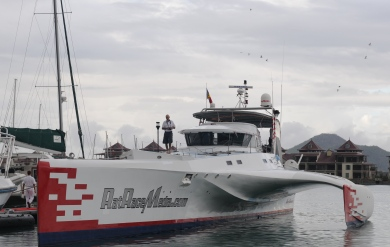 Adventurer had her Seychelles launch last Friday at the Wharf Hotel and Marina, Roche Caïman, in the presence of Vice-President Joseph Belmont, chairman of the Seychelles Tourism Board (STB) Maurice Loustau-Lalanne and Alain St Ange, chairman of the STB marketing fund.
Ocean Charters' managing director Gerard Lafortune said the high-tech, twin diesel-engined vessel will be used for environmentally focused charters and will also open up a new dimension in charter voyages.
Designed by renowned British multihull designer Nigel Irens, Adventurer was custom-built to set a new global circumnavigation record, which was achieved in 1998 with a voyage of 74 days.
She was built to maintain high speeds in rough seas while burning relatively little fuel. As a result, the boat is particularly suited to carry out charters to the southern islands of Seychelles such as the World Heritage site of Aldabra, Farquhar, Providence, Astove and Cosmoledo, which the sea conditions and distances often prevent visitors from reaching.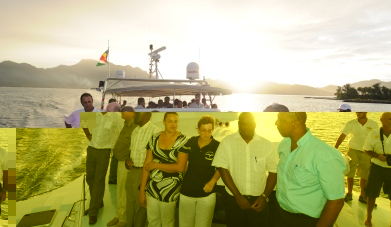 Adventurer, which can take 16 permanent crew members and long-stay passengers, is equipped to carry a further 45 passengers for day trips on two sheltered decks behind the pilothouse.
Being an expedition-type vessel, Adventurer will be able to offer unique trips for deep-sea fishing, light tackle fishing, fly fishing, kite boarding, scuba diving and general adventure trips, in most weather conditions.
Having been built to the highest standards by a famous British naval shipyard, she is equipped with safety features and since the round the world voyage has operated with distinction in some of the most inhospitable oceans in the world.
Ocean Charters, established and managed by Mr Lafortune, is based at Eden Island marina.