AfDB set to lend $20m to support reform
24-April-2009
Finance Minister Danny Faure said this yesterday during a press conference he hosted with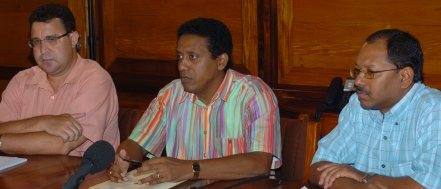 Central Bank governor Pierre Laporte and principal secretary for finance (PS) Ahmed Afif aimed at updating the local media on the programme.
"The bank on Wednesday approved an interim strategic note which creates the basis for them to come and start negotiations on the loan prior to disbursement," he said.
"A high-level AfDB delegation will be in the country in the next few days to conduct the discussions."
Mr Faure said the International Monetary Fund team is due here on May 3 to carry out its second review of the reform programme.
The minister, governor and PS answered questions from journalists on the planned negotiations for debt cancellation and rescheduling with creditors who are not members of the Paris Club, as well as on inflation.
They said the 45% debt cancellation by Paris Club members was a good decision for Seychelles, much better than middle-income countries normally get.
Nation aims to give further details from the press conference soon.