Indian warship joins patrol against pirates
24-April-2009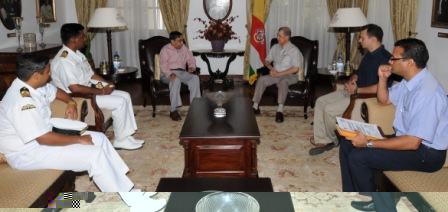 Indian high commissioner Asit Kumar Nag said this yesterday after he and the commander of the ship, Sajeev Kumar Nair, called on President James Michel at State House.
The Nirdeshak was in our waters for three days and yesterday sailed north after refuelling in Port Victoria to continue anti-piracy controls with the Seychelles Coast Guard, he said.
The warship – which is also a survey vessel – is equipped with a Chetak helicopter and interceptor boats, which can be used for anti-piracy missions. It also has a heavy 40mm gun on board.
"In view of the close cooperation in defence and other matters between India and Seychelles, and in response to the request of the government of Seychelles for assistance, India has deployed this vessel – which was nearest to Seychelles – and it will be patrolling for the next week or so after which your other vessel, the Topaz, now being refitted in India, will be arriving," said Mr Kumar Nag.
He said the Topaz will be escorted by an Indian naval ship to Seychelles, and more Indian vessels are expected to come though their time of arrival has not yet been determined.
Commander Kumar Nair said: "We share the deep anxiety and concern of the people of Seychelles over the recent developments of piracy and abductions that have taken place. "The Nirdeshak is here as part of one of the early and prompt initiatives taken by the Indian government towards extending its support and cooperation in tackling the present situation in the waters off Seychelles.
"We remain committed to the Indian Navy's theme of the year – Goodwill Across the Oceans for Peace and Stability."
He added that the ship has been "diverted from its pre-determined task to be in the waters of Seychelles to render all support and necessary assistance and reassurance to our friendly
neighbour in this hour of need".
"We will be patrolling in the exclusive economic zone of Seychelles as per patrol plans chalked out jointly with the Seychelles Coast Guard," said Commander Kumar Nair.
"As you are all aware, the Indian navy is actively a part of the operation aimed at deterring and preventing piracy in the Gulf of Aden, and I'm sure our presence and surveillance in the waters off Seychelles, with your support, will deter any incident."
He said as goodwill ambassadors of their country, the 170 men and 20 officers on board will "rise to the occasion when called on, towards ensuring that goodwill, peace and stability in the region are always upheld".
"Our assigned task will be done to the best of our ability, keeping the larger interest of our two friendly nations in mind."