Mozambican leader hails Seychelles' progress
24-April-2009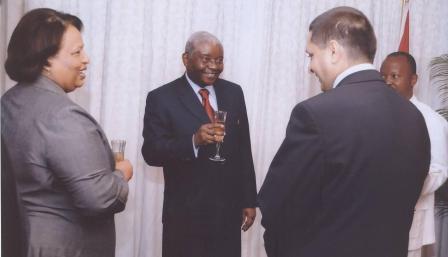 Speaking at the presentation of credentials by Seychelles' high commissioner Noellie Alexander, he said he has followed our progress with great interest and seen that our human development indices are the envy of many and something to be emulated by the developing world.
During the presentation in Maputo on April 15, Ms Alexander reaffirmed the good relationship between the two countries and said her appointment as Seychelles' representative strengthens these links.
She took the opportunity to brief Mr Guebuza on our macro-economic reforms and the fruits they have started to bear.
Ms Alexander also briefed him on the latest piracy scourge and urged countries that border the Indian Ocean to help in the fight against such acts. She indicated that this should be put on the agenda of the Southern African Development Community (SADC), especially as most of its member states share the ocean.
Mr Guebuza agreed and said that since Mozambique is a member of the "troika" that leads the SADC's defence and security group – along with Swaziland and Angola – this issue will be raised.

Ms Alexander, who will continue to be based in Pretoria, South Africa, thanked Mr Guebuza for the personal role he played in helping towards Seychelles' re-entry into the SADC.
She was accompanied at the presentation by Seychelles' honorary consul-general in Maputo, Umar Sorathia.