Badminton-Ah-Wan reconquers Africa
25-April-2009
On Thursday night, when the curtains came down on the championships at the Moi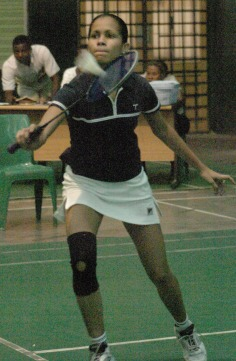 International Sports Complex in Kasarani, Nairobi, Juliette Ah-Wan was too strong for South African top seed Stacey Doubel, whom she beat 2-0 (21-15, 21-7) in the final for a third African singles title in eight years.
This was the second time Ah-Wan, who is well known for her past exploits on the African continent, had beaten Doubel to become African champion. In 2006 in Algiers she whitewashed the South African 2-0 (21-10, 21-12) for her second singles title.
Twice Sportswoman of the Year, in 2000 and 2007, queen-of-the-court Ah-Wan first became African champion in 2002 in Casablanca, Morocco, when she trounced Nigerian number one Grace Daniel 3-0 (7-3 7-4 7-3) in the final.
With the all-important gold, Ah-Wan emerged as the best shuttler on the Seychellois team after taking a silver and a bronze as well. She earned the silver medal in the mixed doubles alongside partner Georgie Cupidon after a 1-2 (21-18, 20-22, 16-21) loss to the Nigerian pair of Grace Daniel and Oluwa Fagbemi.
Her bronze came in the women's doubles with Catherina Paulin as her partner after they lost 1-2 (19-21, 21-19, 17-21) to a South African duo.
Ah-Wan's singles gold was a huge relief for her and the rest of the team, who had been predicted to defend the mixed doubles and team event gold medals won in Mauritius in 2007.
Ah-Wan and Cupidon failed in their bid for a third mixed doubles title in a row. They first won it in Algiers in December 2006 with a 2-1 (21-16, 17-21, 21-16) victory over South Africans James Doram and Michelle Edwards.
Inside the National Badminton Centre in Rose-Hill, Mauritius, the Seychellois African number one mixed doubles pair were up against the South African duo of Edwards and partner Chris Dednam. The final score was 2-1 (21-15, 11-21, 21-15) in favour of Seychelles.
Seychelles won three other bronze medals in Kenya, through Catherina Paulin in the ladies' singles after her 0-2 (13-21, 17-21) semifinal loss to Doubel, Steve Malcouzane in the men's singles, who fell 0-2 (18-21, 13-21) to a Nigerian, and the pair of Cupidon and Malcouzane in the men's doubles after their 0-2 (10-21, 18-21) defeat to a Nigerian pair in the semifinal.
On Monday, Seychelles failed to defend the mixed team gold medal, losing a "pulsating final" 1-3 to South Africa, who reclaimed the title they lost for the first time in 2007 after an eight-year reign that started in 2000.
In the mixed doubles, Cupidon and Ah-Wan fell to the pair of Chris Dednam and Mitchell Edwards in a game that lasted almost one hour. Malcouzane then lost the men's singles match 0-2 (14-21, 22-24) to Chris Dednam.
Paulin beat Doubel 2-0 (21-18 24-22) in the women's singles to halve the score at 1-2.
Cupidon and Malcouzane then teamed up for the men's doubles game. They had to win to force a decisive fifth women's doubles match, but they failed in their bid as they lost 1-2 (21-18, 17-21, 19-21) in an evenly balanced encounter.
Oluwa Fagbemi of Nigeria lifted the men's singles title after beating compatriot Jinkan Ifrahimu in the final. Nigeria also won the women's and men's doubles gold medals.
G. G.