New Creole books for library members
27-April-2009
The new books, which will be on the shelves shortly, were handed over to director general of culture Raymonde Onezime by the institute's director, Penda Choppy.
Among the guests attending the ceremony on Thursday were National Assembly member Bernard Georges, principal librarian Anne-Marie Robert and other library staff, as well as several children who are members.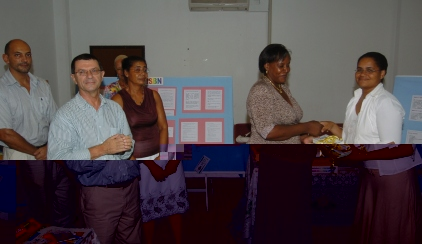 The donation was made to mark World Book and Copyright Day, an annual event to promote reading, publishing and the protection of intellectual property through copyright.
In her address, Miss Onezime said: "The support and the involvement of such individuals and groups are important as libraries need constantly to stock up."
On behalf of the Ministry of Community Development, Youth, Sports and Culture, she thanked Mrs Choppy for the institute's contribution.
She said the National Library calls on all partners in the book trade to take advantage of the services it offers to make their literary work more professional.
Mrs Choppy said Creole books are in great demand at the library, and the institute hopes readers will enjoy these new works.
An exhibition was also hosted at the library giving people the chance to learn more about the international standard serial numbers (ISSN) and international standard book numbers (ISBN) used to identify publications.
The library also had displays on the lives of several Seychellois authors.