11th African Senior Badminton Championships-Triumphant return for Seychellois shuttlers
28-April-2009
They were right as Community Development, Youth, Sports and Culture Minister Vincent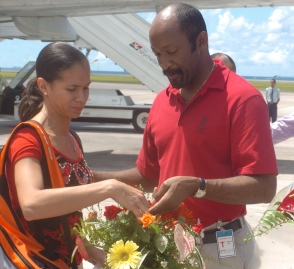 Meriton was there to congratulate and present them with flowers following their success at the recent 11th African Senior Badminton Championships in Kenya.
Also present at the airport to congratulate the players were Seychelles Olympic and Commonwealth Games Association (Socga) president Antonio Gopal and high officials from Socga and the National Sports Council.
African female badminton icon Juliette Ah-Wan won Seychelles' only gold medal at the championships, beating South African Stacey Doubel 2-0 (21-15, 21-7) in the final for a third African women's singles title in eight years.
Speaking to Sports Nation after the photo session, Ah-Wan said: "I felt good to win the singles title a third time in my career. The triumph kind of surprised me as I didn't feature among the top seeds."
The shuttler, who turns 28 tomorrow, added that she banked on her experience to hit the jackpot once again.
"My opponents were physically stronger than me. But I played well technically and banked on my experience to guide me through the matches," said Ah-Wan.
This was the second time Ah-Wan had beaten Doubel to become the African champion. In 2006 in Algiers, Algeria, she whitewashed the South African 2-0 (21-10, 21-12) in the final for her second singles title.
Twice Sportswoman of the Year, in 2000 and 2007, queen-of-the-court Ah-Wan first became African champion in 2002 in Casablanca, Morocco, when she trounced Nigerian number one Grace Daniel 3-0 (7-3 7-4 7-3) in the final.
Seychelles also won two silver and four bronze medals at the championships played at the Moi International Sports Complex in Kasarani, Nairobi.
The mixed doubles duo of Ah-Wan and Georgie Cupidon earned a silver medal following their 1-2 (21-18, 20-22, 16-21) loss to the Nigerian pair of Grace Daniel and Oluwa Fagbemi.
The other silver came in the team event after Seychelles lost 1-3 to South Africa in the final.
Seychelles thus failed to defend the mixed doubles and team event gold medals won in 2007 in Mauritius.
"Victory was within our grasp in the mixed doubles and team event. We surrendered the titles because we committed too many mistakes. It's as simple as that," added Ah-Wan.
The bronze medals were won by Ah-Wan and Catherina Paulin in the women's doubles after they lost 1-2 (19-21, 21-19, 17-21) to a South African duo, by Paulin in the ladies' singles after her 0-2 (13-21, 17-21) semifinal loss to Doubel, by Steve Malcouzane in the men's singles after falling 0-2 (18-21, 13-21) to a Nigerian, and by the pair of Cupidon and Malcouzane in the men's doubles after their 0-2 (10-21, 18-21) defeat by a Nigerian pair in the semifinal.
The other two players who formed the Seychellois team were Alisen Camille and Joel Dubel.
G. G.