Air Seychelles adds Boeing 767 to international fleet
30-April-2009

The new plane – Isle of Bijoutier – arrived from Johannesburg, South Africa, where it has been repainted to carry the revamped livery and corporate branding of the national airline.
It was under the command of captain Cyril Benstrong and first officer Steve Lablache, and it joins three other planes – two B767-300s and another B767-200.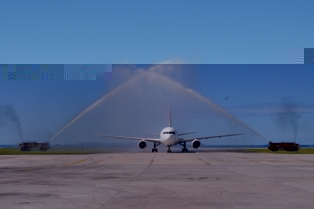 Speaking of Air Seychelles' latest acquisition, executive chairman Captain David Savy said the airline is increasing its fleet primarily to give it greater operational flexibility and also to prepare for the eventual increase in visitor traffic with new tourism resorts opening up in Seychelles in the coming years.
Captain Savy said history has shown that when things go badly in the global airline industry, as they now are, with other carriers suspending flights, Air Seychelles has to remain steadfast and act as an important safety net for the country's tourism industry.
"As the national carrier of Seychelles, we are acutely focused on Seychelles as a holiday destination, and it is our primary objective to support the local tourism industry," he added.
He also explained that the airline is now able to extend its regional and international services as the plane will complement the current Boeing fleet.
It will also be made available for charter flights on request, he added.
Captain Savy said growth is critical to the airline's survival, and a risk-mitigation strategy is a key element in its corporate policy.
"We believe that growth must continue so as to maintain and grow our market share, hence the need to increase our international fleet with the acquisition of a fourth Boeing aircraft," he said.
All the planes in Air Seychelles' international fleet are leased through a finance agreement with the International Lease Finance Corporation (ILFC) – the world's largest aircraft leasing company.
In July, Seychelles and the ILFC will celebrate 20 years of business together.
Air Seychelles took delivery of the Isle of Bijoutier on April 9 in Miami, USA. The plane was then ferried to South Africa under the command of captain Francois Jackson and first officer Christophe Larue.
On arriving at the International Airport, the plane was welcomed by a traditional water cannon spray mounted by the airport fire services.
The Reverend Christine Benoit of the Anglican Church and Father Sylvain Labonte from the Catholic Church then blessed the plane in the presence of the airline's management and staff.