Teachers' vital role in combating climate change
30-April-2009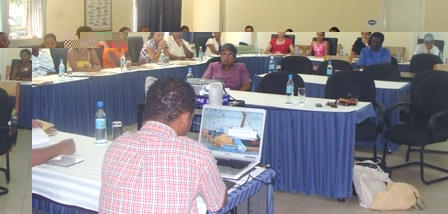 Although the temperature rise of 1.8 to 4 degrees projected by the Intergovernmental Panel on Climate Change sounds small, it is still likely to have a substantial impact. Even if tomorrow the world decides to reduce carbon dioxide emissions, the effect will still be felt on the earth's ecosystem and human activities for a very long time.
Addressing climate change will require everyone around the globe to take part and take action. Education has a fundamental role to play in understanding, mitigating and adapting to climate change.
Education systems will need to integrate the causes, consequences and solutions to climate change in their formal and informal programmes. This will require content and methodologies that will build our capacity to mitigate, adapt and transform.
A transformative approach is needed, which will require learning to change cultures, lifestyles, economies and social structures. Our people, especially our children, will need to change their present wasteful and unsustainable lifestyle.
Building the capacity of our teachers to address these issues is, therefore, very important. We need to start now!
It is for this reason that the Environmental Education Unit organised a workshop for school environmental representatives (teachers who are focal points for environment in schools) last week.
Experts in the field of climate change gave several presentations for the teachers, and Mr Vincent Amelie from the Meteorological Office told those taking part about the history and causes of climate change.
This helped to clarify a number of issues on how, as individuals, we are accelerating climate change as he focused on the human causes of this phenomenon.
He was followed by Mr Wills Agricole, the focal person for the United Nations Framework Convention on Climate Change, who explained the impact of climate change on small islands.
His presentation showed how, as a small island, we will feel the impact in a different way from many other countries and how our economy, natural environment and social life will be badly affected by these phenomena.
The impact of climate change on water was explored by Mr Franky Dupres, a water consultant, who stressed that we are already feeling the effects of climate change on water resources – and things can even get worse.
He also explained about rainwater harvesting as an adaptation method, an issue that aroused great interest among the delegates.
Mrs Moustache from the Department of Agriculture concentrated on the impact of climate change on agriculture and how farmers are trying to adapt to it. She used concrete local examples of the impact of climate change and adaptation methods used in agriculture.
To conclude, Ms Larue from the Ministry of Education, who was also the organiser of the workshop, gave a presentation on the important role of education regarding climate change. She stressed the role of all teachers and educators in building the capacity of our young generation to address this global issue.
After each presentation, the teachers were given time to ask questions. Some even gave examples they have experienced which they think relate to climate change.
They all expressed great satisfaction with the workshop and agreed they had learnt a great deal from it.
This was only the first part of the workshop – the next will concentrate on climate change and fisheries, health and biodiversity.
The Ministry of Education would like to thank all the presenters and their two main sponsors, the United Nations Development Programme and the Seychelles Fishing Authority.