Seychelles puts piracy in focus at NAM forum
04-May-2009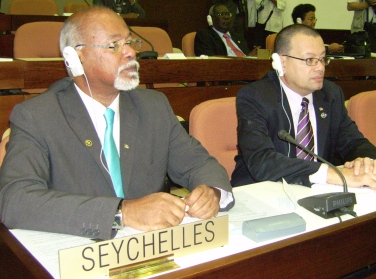 Active support from the international community was sought to tackle collectively the growing number of assaults by pirates in the region.
Foreign Minister Patrick Pillay led a Seychellois delegation at the ministerial meeting of the NAM's coordinating bureau, held from April 27-30 in Havana.
Ronny Jumeau, Seychelles' permanent representative to the United Nations and ambassador to Cuba, took part in the meeting of senior officials that preceded the ministerial meeting.
At the meeting of ministers, Seychelles focused on the need for urgency in combating pirate attacks, and on the significant threat they pose to the national security, social and economic wellbeing, territorial integrity and sovereignty of Seychelles and other states of the western Indian Ocean.
The meeting had more than 120 countries taking part, and the president of the 63rd UN General Assembly, Miguel d'Escoto Brockmann, addressed the economic crisis facing the world today, noting that the NAM aims to adopt a common position on this complex scenario.
This meeting was the last under Cuba's mandate as chairman of the movement, assumed in 2006, and settled the final arrangements for the 15th NAM summit to be held in Sharm El Sheik, Egypt, from July 11-16.
The working documents of the meeting included a final declaration giving an assessment of the current international situation and dealing with other issues like decolonisation and self-determination, regional conflicts, human rights, migration, drug trafficking, disarmament, international terrorism and natural resources.
Mr Pillay, who was the first representative of the Small Island Developing States (SIDS) to speak, drew attention to four issues of national and global significance – the threat of pirate acts in and around Seychelles' territorial waters, the global economic crisis and its detrimental effects on SIDS and middle-income countries, the world food crisis and threats posed by climate change.
The NAM was formed during the Cold War era, largely at the initiative of then Yugoslav President Josip Tito, as an organisation of states that did not seek to align themselves formally with either the United States or the Soviet Union but sought to remain independent or neutral.
The government of Seychelles believes our multilateral relationships – especially the direct links it has with the NAM – are among the essential building blocks for developing global strategies to confront the many problems affecting humankind and build a more peaceful, fair and prosperous world.
Over the years Seychelles has been dynamic in using the forum to argue the case of SIDS and their many constraints and economic vulnerabilities. Much effort has been made to gather international support and solidarity for SIDS.