New employment agency opens
04-May-2009
Called Job Plus (Seychelles), the agency was officially launched on Saturday by Minister for
Employment and Human Resources Development Macsuzy Mondon to coincide with Labour Day and pay tribute to all workers in Seychelles.
Based at Oceangate House, Victoria, it will offer a wide range of employment-related services.
Its specialist areas include recruitment support, employment administration, training and development, advice and guidance on employment laws, staff care, payroll management, employee call centre, workplace upkeep and on-site human resources development
Addressing the guests at the inaugural ceremony, the agency's managing director Wendy Didon said under the impact of economic challenges, to secure and preserve jobs tops everybody's agenda.
She said today, more than ever before, there are greater needs to be more productive and to work harder and her agency has been launched to help in the successful achievement of this common mission.
She added that the agency is there to provide the necessary support to job seekers not only to secure employment but also to find and enjoy the right careers.
Mrs Didon also said the agency will provide maximum support to employers and will make their business ventures less hectic by reducing the recruitment and other administrative burdens.
"The agency is to make job seekers, employers and employees recognise the need to seriously engage in professional and organisational development," she added.
She said the agency is to act as the solid bridge, linking employers and job seekers allowing them to engage responsibly.
She also described the agency as a full gear effort to support organisations, job seekers and employees to secure and preserve jobs.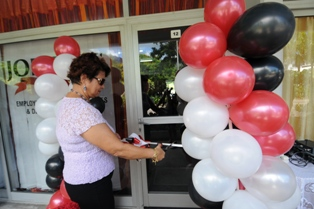 Mrs Mondon guaranteed the full support of her ministry towards the newly established agency.
She congratulated Mrs Didon for her initiative which she said comes at an opportune moment when the country is experiencing a very important moment economically.
She also encouraged all job seekers, especially the youth, to make maximum use of the agency.
Mrs Didon has spent most of her career in the tourism industry, where she was responsible for in-service and pre-service training as well as human resources development. She has also held senior management positions in the hospitality and administrative fields.
She explained that the firm has been set up to meet the demands of a rapidly growing market, as shown in the country's employment statistics.
"Job Plus (Seychelles) is founded on the principle of responsible service, smartness and professionalism," said Mrs Didon.
She added that the agency is there to help individuals maximise their career potential and offer options leading to career development and new opportunities.
The Job Plus team, specialising in tourism, hospitality, education, training, administration and employment, will provide services to all sectors wanting help and advice on employment and human resources development.