ISLAND CONSERVATION-The avant-garde artist who defended nature
04-May-2009
Of course, there is still a niche for "realistic" (often idealised) depictions of muscular fishermen carrying brightly coloured bourzwa, fruit vendors hovering behind counters laden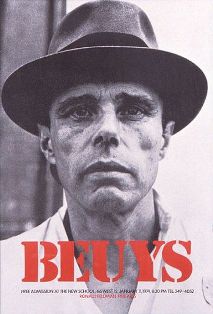 with ripe bananas and pineapples, and old wooden houses on La Digue, assimilating the onslaught of time and tropical climate. But one only has to look at recent works by Christine Chetty, Allen Comettant, Egbert Marday and Léon Radegonde (I'm looking at the invitations to exhibitions sent to the press recently) to realise Seychellois art has come a long way.
What would you make, though, of the following art works: a rose standing in a measuring cylinder (Rose for Direct Democracy), a piano covered in felt (Homogeneous Infiltration for Grand Piano), a glob of fat placed on a chair in the angle between the seat and the back (Fat Chair)? What about such performances or "actions" in which the artist sits in a tub of water with flashlights attached to his thighs, wanders around the room holding a dead hare and whispering in its ears, or lies on the floor, rubbing oil-stained fingers against a slab of copper?
These works and performances were by the German conceptual artist Joseph Beuys (1921-1986), considered to be one of the most influential figures in modern art. Silly and ridiculous, I hear the sceptics say. But Beuys himself did not want us to "explain" his work, or even consider its aesthetic merit. "An object of this kind (his piano wrapped in felt) is to be understood as a stimulus for discussion and should in no way be taken as a product of aesthetics," he stressed.
I first heard about Beuys in the early 1980s during discussions with Francis Higby and Peter Pierre-Louis, who were working at what was then the School of Art and Design at Mont Fleuri. One of the books about the artist that Francis showed me contained this quote with which I readily identified: "To make people free is the aim of art, therefore art for me is the science of freedom." Imagine my amazement, years later, when I found out that Beuys had actually been to Seychelles!
He arrived on Praslin with his family on December 22, 1980 to visit his Italian friend and collaborator, Lucrezia De Domizio Durini, and stayed at the Indian Ocean Fishing Club. On Christmas Eve, at the Domizio Durini home, Coquille Blanche, he planted a coco de mer and
a coconut and watered them using a locally made tin watering can or larozwar. This was the start of the Operazione Difesa della Natura (Italian for "Operation Defence of Nature") or Plantation project. This was to continue with the planting of 7,000 oak trees in Kassel, Germany, and another 7,000 trees, but each of a different species, in Bolognano, Italy. The idea was to have "an ongoing scheme of tree planting to be extended throughout the world as part of a global mission to effect environmental and social change".
Beuys the artist and provocateur was also a political activist. Just before coming to Seychelles he had helped to found the German Green Party, which not only campaigned for the protection of biodiversity and called for curbs on pollution, but also opposed the use of nuclear energy and wanted West Germany to pull out of NATO. For Beuys, a firm believer in the cross-pollination of ideas across disciplines, it was natural that an artist should also be an ecologist or environmentalist. In spite of his unconventional artistic style and reputation for provocation and controversy, he could also be very down to earth in his defence of trees.
"In doing this work we plant trees, and the trees plant us, since we belong to each other and we must coexist," he said, with only the slightest nuance of "philosophical-artistic-socio-cultural-scientific" jargon. "If we refuse to show a capacity for collaborating with nature, then nature will resort to violence to force us to change course. We have reached a point where we have to make a decision. Either we do or we don't. And if we don't, we'll have to face a series of huge catastrophes in all four corners of the earth… At the moment, however, we still have time to come to a decision freely – the decision to take a different road from the one we have followed to date…"
While in Seychelles, Beuys met and chatted with simple Praslinois, taking time to sip some home-tapped kalou. He filled his bungalow on Praslin with all kinds of natural history specimens: dry leaves, driftwood, granite pebbles, shells, coconuts.
But his friend Lucrezia De Domizio Durini tells us that the only souvenir he took away when he left Seychelles to return to Düsseldorf, Germany, was a marmit.
Joseph Heinrich Beuys died of a heart attack on January 23, 1986. A few days later, we are told, the coco de mer he planted here put out its first leaf bud.
The Island Conservation Society promotes the conservation and restoration of island ecosystems.
by Pat Matyot