Local herbalists promote legitimate trade
05-May-2009
This took place at the Mont Fleuri secondary school hall and showcased medicinal plants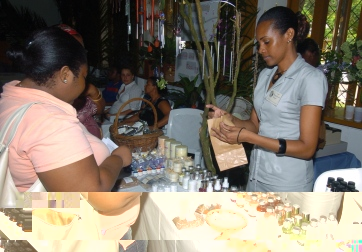 and naturally-based medicines, said to be good alternatives to conventional drugs.
The fair's main aim was to allow people to discover the wide range of complementary medicines and practices, and the people who are licensed to produce and offer them, as opposed to the practices sometimes referred to as gris-gris.
The fair was organised for the second year running by the Association of Promoters of Complementary Health in Seychelles (Apochis).
Its vice-president, Barry Laine, said the main idea was to educate the public on various aspects of complementary health.
He said for too long the real potential of natural medicines and of the people who practise these skills has been confused with practices known to harm people.
"We want the public to differentiate between legitimate and lawful ways to care for their health by the use of natural medicines, and other harmful rituals," he stressed.
"We have in Seychelles a range of natural medicines and some talented practitioners, but for reasons best known to others these resources have been untapped and under-utilised. Time may not be on our side to keep this heritage alive."