Seychelles Tennis Association (STA) open tournament
06-May-2009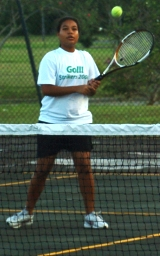 The finals, which also included the men's doubles and mixed doubles events, were played at the Roche Caïman tennis courts on
different days because of the rain.
Against Gloria Lauro, a 1-2 (6-7, 6-3, 6-7) loser to Clyvie Delpeche in last year's final, the younger Romain dropped the first set before claiming the next two for a 2-1 (2-6, 6-2, 6-4) women's singles victory.
This was the third defeat in a row for Lauro in the STA open singles final.
Horpinitch was up against Frenchman Frédéric Canale, whom the STA hopes to recruit as national team coach on a part-time basis.
Without a previous final victory here, the Australian won 2-0 (6-4, 6-3) to succeed three-time winner Selwyn Knowles.
Canale did bring home two winner's trophies. He teamed up with Carlo Lauro to win the men's doubles on a 2-0 (6-1, 6-2) score against the pair of Stefan Romain and Sylvester Delpeche.
The Frenchman's second win was in the mixed doubles with Nathanielle Morel as partner. They needed two sets to defeat the duo of Steven Rideau-Mein and Brigit Kluger on identical scores of 6-4.
G. G.