Air Seychelles joins university sponsor list
07-May-2009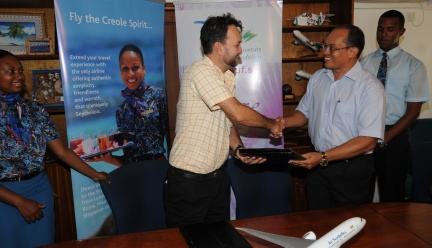 The national airline has donated R50,000, which will be in the form of air tickets and freight costs.
The sponsorship agreement was signed by Air Seychelles' executive chairman Captain David Savy and the chairman of the Seychelles University Foundation (SUF) board, Dr Rolph Payet, in a ceremony yesterday at the Creole Spirit building in Victoria.
The agreement will provide air tickets to enable SUF officials and educational associates abroad to travel for meetings to discuss founding the university. It also covers the air freight costs of educational resource materials.
Captain Savy said the sponsorship is part of the company's well-defined policy of corporate social responsibility.
He said Air Seychelles is committed to the SUF initiative and the over-riding benefits it will bring, which he said will undoubtedly be closely linked to the airline's success.
Captain Savy also said the airline is proud to be associated with such an educational and academic project.
"Our community is the source of our success, and reinvesting in our community makes good business sense. We do our best to give back in significant ways," he added.
He said Air Seychelles will continue to support the SUF throughout the coming years. Although it is actually a time of crisis for all airlines, the company will remain committed to this very important initiative.
Captain Savy said the airline also has an interest in adding future graduates of the university to its staff.
He encouraged more local businesses to come forward, actively promote the project and help the SUF speed it up.
On behalf of the SUF, Dr Payet thanked Air Seychelles for the donation, which he said will help them further develop the partnerships crucial to founding the university.
He said to realise the project, the SUF needs to forge important alliances with businesses.
"We are pleased that Air Seychelles has responded to our appeal to produce the desired result through support and partnership," he added.
Dr Payet also said the SUF will soon announce the list of partners who are helping to make the project a reality.