Atmosphere Studio releases Sours Lanmizik
09-May-2009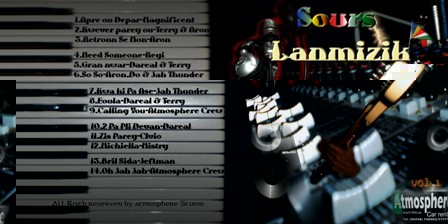 Terry Céleste and technician Daryl 'Dareal' Canaya are the main men behind the project, which features artists like Magnificent, Aron, Regi, Clvio, Jeftman, Mistry, Do and Jah Thunder.
The CD is on sale at the usual outlets at R125 and can also be bought for R100 directly from either Dareal or Terry. They can be reached on 784631 and 783738.
Speaking to Seychelles Nation, Dareal said they have launched the CD to promote the Atmosphere Studio based in Quatre Bornes, Takamaka.
"It's a new original sound and a different style of music," he said.
"It's very creative music and people will love it."

G. G.