Volleyball: National Championship-Arsu tame SMB, Cascade, Beau Vallon and Spikers win
12-May-2009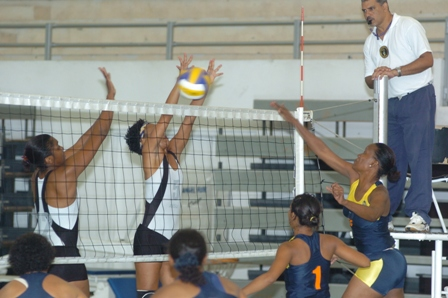 The day before, men's champions Premium Spikers won and they were imitated by Beau Vallon.
Missing a number of key players, six-time Indian Ocean Club Championships (IOCC) champions Arsu opted for power in attack and a combative approach against SMB, who started with a first six of skipper and setter Avrille Hoareau, Eliena Mousbé, Rona Dubignon, Anne Delcy, Esmée Toussaint and Joselle Labrosse.
Captain Jerina Bonne, player of the year Marielle Bonne, Marie-Antoine Gilbert, Tina Agathine, Hillary Nourrice and setter Luciana Bonnelame, kept their feet on the ground to win the match 3-0 (25-21, 25-19, 25-21) in 59 minutes.
This was Arsu's second win over SMB this year after posting a 2-0 victory in the Curtain-raiser tournament. Sunday's victory was a sweet one for Arsu as their former players – Rose-Marie Antoine and Rita Ladouce – were on the other half of the court playing for SMB.
Arsu stay unbeaten in the six-team league standings with six points after two games played, and skipper Bonne is confident in her team's chances of retaining the title.
"We are a small group and we stay united. We are focused on what we have to do and we look forward to our real test against Cascade," she said.
The match between Arsu and Cascade is slated for Saturday June 20.
Earlier, Cascade – with former captain Annie Dugasse, now a professional in France, on their bench to support them – defeated Roots 3-0 (25-17, 25-10, 25-15) to extend their winning run to two.
In the men's division one, champions Premium Spikers whitewashed Port Glaud-based Roots 3-0 (25-16, 25-13, 27-25) for their second win in as many matches.
The best match of the lot was surely the Beau Vallon/Racing Club clash. Skippered by international Tony Songor, Racing Club rushed to a two-set lead as they won the first and second sets 25-20 and 28-26 in a combined 43 minutes.
Beau Vallon's coach Jude Preira sent Danny Laramé, Jude Lepathy and Benjamin Bijoux into the frey and they helped setter Hank Panagary, captain Guilly Bijoux and Kishnan Chetty deliver on the court. They grabbed the remaining three sets with scores of 25-20, 25-21 and 15-9 in 52 minutes.
In the other men's top flight match, St Louis Bombers rallied from a set down to beat visitors BSA Spikers from Praslin on a 3-1 (20-25, 25-19, 25-19, 25-17) score.
Meanwhile, in the women's division two, Santa West sported their new uniform and won 3-0 (25-20, 27-25, 25-21) against former top-flight side St Louis Bombers, Cascade Youth edged Mont Fleuri 3-2 (21-25, 25-20, 25-17, 17-25, 15-9) and United Sisters beat Cadettes 3-1 (25-22, 23-25, 25-15, 25-19) in 66 minutes.
In the men's second division, Anse Royale needed 74 minutes to edge Neo Boys 3-2 (25-10, 20-25, 24-26, 25-18, 15-12) and Outsiders beat Cadets 3-0 (25-16, 25-16, 25-12) in 42 minutes.
G. G.