Seychelles makes impact at ocean forum
18-May-2009
The Seychellois delegation also took the opportunity to start talks on an environmental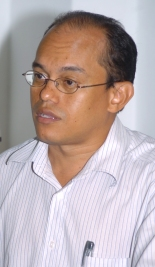 cooperation agreement with Indonesia, and a pact was signed to support the planned University of Seychelles.
The high-level meeting brought together six heads of state from the region, more than 40 ministers and ambassadors from around the world and over 1,500 delegates.
The Seychellois delegation was headed by presidential adviser Dr Rolph Payet, who was accompanied by the consul general of Seychelles to Indonesia, Nico Barito.
Its keynote address called on the world to introduce sustainable approaches to fisheries, tackle illegal fishing and adequately research the impacts of climate change on fisheries.
In his closing remarks at the conference, Indonesian President Susilo Bambang Yudhoyono called the world's attention to the state of the oceans and the impact of climate change.
The forum also marked the formal launch of the Coral Triangle Initiative by the leaders of Indonesia, Malaysia, Philippines, Papua New Guinea, the Solomon Islands and East Timor to manage the world's most diverse coral and marine area.
This initiative was inspired by the Global Island Partnership launched by President James Michel and his Paluan counterpart in Mauritius in 2005.

During the gathering, the Seychellois delegation held high-level talks with several Indonesian government officials and started talks on an agreement for environmental cooperation and exchange.
An alliance was also signed between the University of Sam Ratulangi (the largest university in North Sulawesi, Indonesia) and the Seychelles University Foundation on cooperation in the areas of maritime affairs, agriculture, Asian business and others.
And the delegation was invited by the Association of Bankers to present and discuss innovative financing approaches to the climate change issue.

Seychelles has played a leading role in preparing this international conference since it was started in 2006 by the government of Indonesia.
The conference ended with the Manado Declaration, which will be used to influence upcoming climate change talks.
More details of the conference are shown on the website: http://www.iisd.ca/oceans/woc2009/1405.html