President hails India-Seychelles cooperation
19-May-2009
He was speaking yesterday at the Seychelles Coast Guard (SCG) jetty after visiting the patrol boat Topaz, which had been in India for refitting.
The maintenance work on the Topaz was entirely funded by the Indian government as part of the military cooperation between the two countries.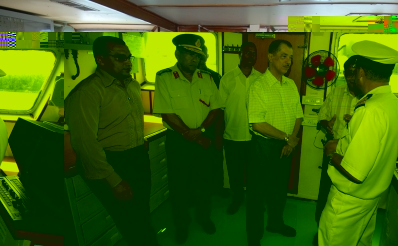 President Michel was accompanied by Indian high commissioner Asit Kumar Nag, Seychelles' high commissioner to India Dick Esparon and chief of the Seychelles People's Defence Forces Brigadier Leopold Payet.
He said the arrival of the Topaz will boost the SCG's ability to face the various challenges involved in protecting the country's territorial waters, notably pirate activities which – if not stopped – will have a severe impact on our economy.
He explained that all the surveillance work in the region is being carried out in close collaboration with other countries, and that India is one of the major partners.
The President thanked the Indian government for its help, notably in the security and military fields, which will help to safeguard our territorial waters and make them safe for any ship to use.
He added that India will also help us to further maintain and develop our capabilities, particularly in training local personnel. This, he said, will boost their ability to carry out their jobs and will also strengthen the cordial Indo-Seychellois relations.
Regarding his appeal for more international help to deal with pirate activities in our waters, President Michel said he is satisfied with the response and noted that talks on further support are ongoing.
Mr Kumar Nag said the Indian government is very happy and proud to help Seychelles, especially in the field of defence and surveillance. He added that the Topaz will boost the country's ability to deal with pirate attacks in our waters and in the wider region.
Although Seychelles is getting help from other countries, it is always better to have its own vessel and capabilities, which is further proof of significant development, he added.
The Topaz, which was towed from India by the naval ship Matanga – to save its engine time – will now join the Andromache and other international naval ships in surveillance work to safeguard our waters.
Formerly the INS Tarmugli and built by Garden Reach Shipbuilders, the Topaz was commissioned on March 9, 2002. It was decommissioned from the Indian naval fleet on February 25, 2005 and joined the SCG fleet the same day.
The Topaz left Seychelles in September last year to undergo repair work – both on the body and the engine ¬– at the Visakhapatnam naval dockyard.
The fast attack craft measures 46 metres in length and 7.5 metres in width. It can carry a crew of 25 – four officers and 21 sailors – and is equipped with a main 30mm automatic Medak gun and other small-calibre weapons.