NCC launches 5th Child Protection Week
25-May-2009
Yesterday's ceremony, held at the Children's Ark building at Beal Eau, was marked by the opening of an exhibition and had several presentations from individuals about their experiences working on NCC's various programmes.
Employment and Human Resources Development Minister Macsuzy Mondon, who is also the chairperson of NCC, officially launched the event under the theme Unite for Children and traced the history of NCC from its conception in 1979 to present date.
"Over the past decade the NCC has been very proactive in promoting the well-being of children and has been hailed by President James Michel as the trade union for children," she said.
"The list of achievements is long, and we can be sure that much more will be done."
A strong point during yesterday's ceremony was the presentation of a R70,000 cheque from the Rotary Club of Victoria to finance a programme on protective behaviour in children in schools and homes.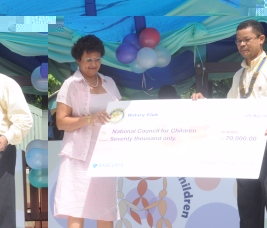 The cheque was handed over to Mrs Mondon by the club's president Patrick Bonnelame.
DVDs to be used in the programme have already been produced and will soon be distributed, with the aim of giving children and adults a tangible learning tool in helping to fight abuse.
Air Seychelles' executive chairman David Savy also announced that NCC is now the airline's charity organisation and has set up a new initiative to raise money. A consignment of teddy bears known as Cuddles will be on sale in the Seychelles duty free, and from each bear sold, seven dollars will go to the NCC.
Commenting on the Child Protection Week activities, NCC's public relations officer Jean-Claude Matombe said:
"The exhibition will run until Sunday May 31. It is featuring mainly the role of NCC, its various sections such as training, advocacy, psychology and counselling and its administration. We will also hold campaigns against child abuse, child protection, parenting skills and safe technology workshops and talks."