Green Islands Foundation-Private islands pioneer national conservation advances
25-May-2009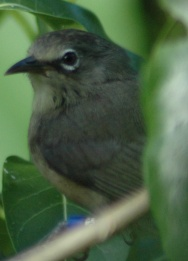 Of particular threat are predators such as rats and cats, which are highly adaptable with broad feeding niches, making them effective and high-impact invaders.
The effect of these predators on Seychelles flora and invertebrate fauna is not properly understood but is expected to be extensive, and their impact on our endemic birds is well known.
The threatened status of several of Seychelles' rare species – including the magpie robin (pi santez), the warbler (timerldezil), fody (tok tok) and white-eye (zwazo linet) – has been directly linked to the presence of rats and cats. In order to save such species it is vital to establish natural havens with suitable habitat and no mammalian predators. This is where private islands have stepped in and shouldered this national burden.
Since 2000 Fregate, Denis and North islands have eradicated mammalian predators. Their activities have increased the rat-free habitat in central Seychelles threefold such that today these three islands alone constitute about 65% of all the rat-free land in the central archipelago.
The eradication on Fregate secured the future of the primary and original source population of the Seychelles magpie robin and the largest population of the Seychelles fody. It also enabled the subsequent successful introduction of the Seychelles white-eye.
Denis is now home to introduced populations of four threatened endemic birds, including the first ever transfer of the Seychelles paradise flycatcher. North, meanwhile, now hosts a population of introduced white-eyes. All three islands are continuing work to enable the introduction of more endemic species in the coming months and years.
All three islands have undertaken extensive ecosystem rehabilitation projects to create and extend existing habitats to enable rare species introductions, including the planting of some 85,000 native plants on Fregate and the rehabilitation of some 50 hectares of habitat to date on both Denis and North.
The islands are also showing natural recovery following the removal of alien predators, with seabird species returning in numbers. Of particular note is the wedge-tailed shearwater: this bird digs and breeds in subterranean burrows and is, therefore, particularly vulnerable to rodents. On all three islands this species has now re-established small breeding populations. This represents a major breakthrough in the recovery of these ecosystems and bodes very well for the future establishment of broader seabird colonies.
The rat and cat eradications were entirely funded by the islands themselves, with operations costing from US $250,000 to more than US $1 million, and laid the foundation for major advances in national conservation initiatives by providing opportunities for cooperation with partners such as Nature Seychelles, the Island Conservation Society and the Green Islands Foundation, among others.
These islands and their owners have, therefore, pioneered the major breakthroughs in terrestrial conservation in the central archipelago in recent years. All three islands are luxury hotel resorts that market themselves to a considerable extent on their wonderful island ecosystems.
This shows how tourism development can do much more than just provide employment and attract foreign direct investment; it can also make a significant contribution to the conservation and sustainable use of Seychelles' natural heritage.
Their investment and ongoing commitment are also helping Seychelles to meet its international commitments under agreements and initiatives such as the Convention on Biological Diversity and the national implementation of the 2002 World Summit on Sustainable Development's action plan.
This shows how development and investment, if managed appropriately, really can be positive for both socioeconomic development and environmental patronage; and that sound environmental investment and management can be the basis of a viable business model. Fregate, Denis and North islands have "blazed this trail" and shown the potential it offers. This example, coupled with the development of an enabling institutional and legislative framework, may help others to follow suit.
The Green Islands Foundation is a locally registered NGO dedicated to the mainstreaming of sustainable development. To learn more about its objectives and activities please visit the following sites http://denisisland.blogspot.com and http://greenislandsfoundation.blogspot.com . More information on the environmental initiatives on Fregate and North islands can be obtained from the following respective sites: www.fregate.com and http://www.north-island.com .
By John Nevill