Desjoyeaux and crew win first Seychelles Regatta
25-May-2009
Already on another sailing mission, twice Vendée Globe winner Michel Desjoyeaux was not present to receive the top prize from Vice-President Joseph Belmont on Saturday night at Eden Island.
Already guaranteed first position after the seventh race, Desjoyeaux's Champagne Nicolas Feuillatte boat settled for ninth and last place in Saturday's eighth and final race. After the worst finish – the ninth place – was discarded, Desjoyeaux and his crew members – Sylvain Mousler, Claire Yverneau, Cyril Moisson, Anthony Coombes, Regine Bornens, Jeff William and Roy Hoareau – finished with 10 points on their Leopard 43 catamaran to receive the revolving trophy sponsored by the Seychelles Tourism Board (STB) and a week accommodation at the Hilton Hotel for two persons.
William and Hoareau were the only two Seychellois onboard the Champagne Nicolas Feuillatte boat, who won five of the eight races – races one, two, three, five and seven.
Skippered by English woman Samantha Davies, CPR Decoration made sure of finishing second overall with 18 points by winning the eighth race – its third after also claiming victory in races four and six.
Seychelles Tourism Board (STB) director for tourism marketing Alain St Ange presented the runner-up trophy to the CPR crew, who also got a weekend for two at the Hilton Hotel and a bottle of champagne.
In third position with 26 points was Keneos Aubriet, skippered by Romain Attanasio. As prize, it won a trophy and a bottle of champagne presented by Air Seychelles director of marketing Jocelyne Bonnal.
STB chairman Maurice Loustau-Lalanne and Miss Seychelles Islands Elena Angione presented the big game fishing and fair play trophies to Rome Team and Lady Anya.
The remaining six places were occupied by Chagneau (fourth with 29 points), Lady Anya (skippered by Dee Caffari, fifth with 30 points), Rome Team (sixth with 31 points), C-Team (seventh with 42 points), Air Seychelles (eighth with 50 points) and Ter Cognita (ninth with 53 points).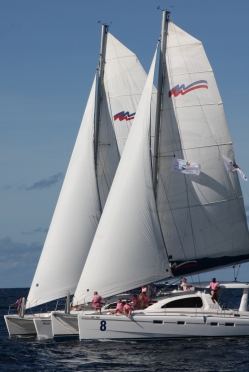 The organisers decided to reduce the number of races from 10 to eight because of a lack of winds.
In the regatta, run on a handicap basis, the competitors sailed on the crystal-clear turquoise waters of Seychelles and 'fished under sail'.
Thanking the star sailors for taking time off their busy schedule to compete in the first Seychelles Regatta, Mr St Ange said he was right to say in his speech at the opening ceremony that Seychelles was created with the sailor in mind.
"As you might have noticed, sailing is an integral part of every Seychellois," he said.
"It's true you did not have enough wind at the start of the Regatta, but we have to accept the fact that we cannot always have everything we want.
"You visited our beautiful islands to spend some time ashore at one of Seychelles' two Unesco world heritage sites – the Vallée de Mai – and the timeless islands of La Digue and Silhouette. This is an accurate reflection of the fact that Seychelles is not just about sailing, but also about savouring the extraordinary diversity on offer – not just topographical, but cultural, ethnic and ecological," he added.
Mr St Ange also told the foreign sailors to take fond memories of Seychelles with them and recount their experience to their families, friends and colleagues to inspire them to come and savour the Seychelles experience.
The event was organised by Blue Oceans Events based in Brussels, Belgium, which has been set up by three partners – Benoît le Grelle, Olivier le Grelle and Régis Elhaouel.
The other main partners involved in running the Seychelles Regatta were Eden Island, the STB, Air Seychelles and Nicolas Feuillatte champagne.
During the ceremony, the top three finishers in the primary and secondary categories of the 'Sailing and Tourism' poster competition received their prizes from Eden Island chief executive Craig Heeger.
In the primary category, Mont Fleuri school was first, while Grand Anse Mahe and Beau Vallon finished second and third.
The top prize in the secondary division went to Anse Royale. English River and Praslin were ranked second and third.
As prizes, the winners got an LCD projector, the runners-up a digital camera and the third place finishers a DVD player.
G. G.