World health forum honour for Seychelles
26-May-2009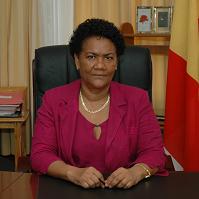 The Seychellois delegation at the forum in Geneva from May 18-22 was led by Health and Social Development Minister Marie-Pierre Lloyd, who was accompanied by special adviser Dr Bernard Valentin and director-general for health surveillance and response Dr Shobha Hajarnis.
While there, the team also attended the Commonwealth Health Ministers' Meeting and the ministers' meeting of the East, Central and Southern Africa Health Community.
At the World Health Assembly, Seychelles was chosen to present a report on the progress made in improving the health status of women and children in Africa since 2005.
This year, the assembly took place at the height of the influenza A H1N1 pandemic, which was central to many of the discussions. Strong messages of support and encouragement were addressed to the World Health Organisation and to its member states for the effective and timely way in which it responded to the epidemic.
Other key discussions that took place at the assembly and considered of vital importance to Seychelles were primary healthcare, social determinants of health, and climate change.
Climate change was also the main focus of the Commonwealth meeting, which took place one day before the official opening of the assembly.
An action call was made in the final ministerial communiqué of the Commonwealth meeting for countries to spare no effort to assess their own vulnerability in the face of climate change and to mobilise resources in response. It was also stressed that many further steps must be taken by both rich and poor countries to slow down global warming.
In Geneva, Mrs Lloyd was also one of the prime speakers in a panel discussion on how health and development are held back by the burden of non-communicable diseases, Seychelles' main causes of illness and death.
Organised by the International Diabetes Federation, the International Union Against Cancer and the World Heart Federation, this major international panel discussion was chaired by Quentin Cooper, a BBC radio journalist. Other panellists included Dr Ala Alwan, assistant director-general for non-communicable diseases and mental health at the World Health Organisation, and Sir George Alleyne, chairman of the Caribbean Commission on Health and Development.
Mrs Lloyd also paid a working visit to the University of Lausanne and to public health authorities in the Canton of Vaud.
The University of Lausanne has been supporting Seychelles' Unit for the Prevention and Control of Cardiovascular Diseases for more than 15 years and provides funding for Swiss public health specialist Dr Pascal Bovetto to work for the unit.
Mrs Lloyd explored possibilities for further cooperation in health between Seychelles and the authorities in Lausanne and Vaud.