President hails pact on visa-free travel to EU
29-May-2009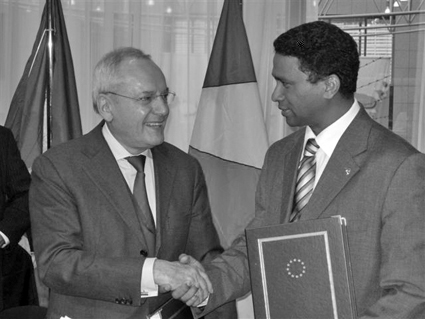 "This is an extraordinary day for Seychelles. The agreement is symbolic of the partnership that has been built up over many years between Seychelles and the EU," said President Michel.
"The European Union has opened another door to Seychelles. Once again the European Union has proved the confidence that it has in our country."
Last week the EU changed its policy for aid to Seychelles and has agreed that its grant assistance will be delivered as budgetary support rather than programme-based help. President Michel said the visa-waiver agreement is a further step in establishing closer relations with the union, and many Seychellois will benefit from the ease of travel that such an agreement provides.
As from today, citizens of Seychelles may enter and stay without a visa in the territory of the EU for a maximum of three months. This also applies to citizens of EU member states visiting Seychelles.
The visa-free regime provided by the agreement applies to travel to the territory of all EU member states except for the United Kingdom and Ireland, which do not form part of the Schengen area and do not apply the common visa rules of the EU. The visa regime of these member states remains subject to their national legislation.
The signing took place yesterday in Brussels between representatives of the European Community and Seychelles, Mauritius, Antigua and Barbuda, the Bahamas, Barbados, and St Kitts and Nevis.
The agreement was signed for Seychelles by its ambassador to the EU, Barry Faure, and the Council of the European Union was represented by Helena Bambasová, the Czech Deputy Minister of Foreign Affairs, and Jacques Barrot, vice-president of the European Commission.
More practical information for Seychellois wishing to travel to EU member states will be published in tomorrow's edition.