Heritage fair highlights traditional skills
29-May-2009
Guests and other visitors visiting some of the stalls at the fair yesterday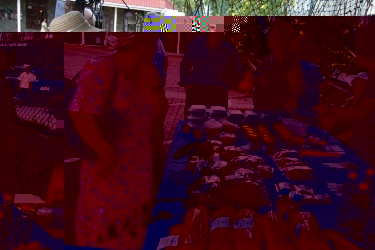 The three-day event is being held in the Camion Hall grounds and was officially opened yesterday by the Culture Department's director general, Raymonde Onezime.
The fair has been organised by the Ministry of Community Development, Youth, Sports and Culture in collaboration with the Small Enterprise Promotion Agency (Senpa).
Other sectors contributing to the event, which is also part of the FetAfrik 2009 celebrations, include the Seychelles Bureau of Standards (SBS) and the National Heritage Research Section.
Also attending the opening ceremony were Minister for Community Development, Youth, Sports and Culture Vincent Meriton, chairman of the National Monuments Board Marcel Rosalie, and National Assembly member Nicolas Prea.
The Seychelles Heritage Fair aims to bring together individuals and groups of entrepreneurs who are using traditional knowledge and skills, and to make people more aware of their importance.
This knowledge has been used locally for many years to supply basic needs such as food, shelter and healthcare, passing from generation to generation and helping to ensure the survival and identity of the Seychellois people.
The initiative was set up during the preparation of a conference to be held in Seychelles soon, which will focus on traditional knowledge in Southern African Development Community member countries.
Miss Onezime said the heritage fair is open to all categories of traditional economic activities such as agriculture, food and drinks, maritime and a variety of other work that was carried out in the past.
An exhibition showing these traditional activities has also been mounted and will be open until the fair ends.
Miss Onezime said it is important for us to add our traditions to the new technologies and innovations we are applying, especially during the global economic crisis.
"These activities form part of our industrial heritage and can create more employment opportunities," she said.
Stressing the importance of the link between culture and economic development, she said this will help to add a variety of local products, which will reduce the amount of goods imported and contribute to a better food security system.
Displays on the stalls include local clothing, plants, traditional medicines, handicraft work, food and drinks.