Seychelles Regatta debut success has sponsors to thank
30-May-2009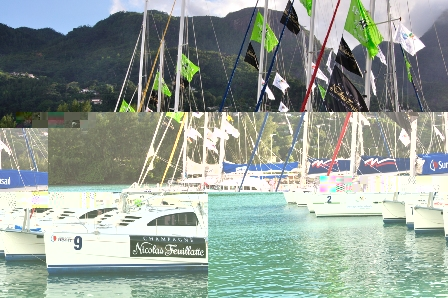 Several local sponsors pooled their resources to make sure the regatta goes down on record and remains here to stay.
Sponsorship was both in cash and kind, all contributing to ensure the competition was well organised, the sailors well taken care of and Seychelles benefited at the end.
Held from May 16-23 around the inner islands of Seychelles – Mahe, Praslin, La Digue, Silhouette, Felicite and Marianne – the regatta had over 60 contestants with a fleet of nine catamarans vying for first place.
Having received positive responses from the sailors, the main organiser of the Seychelles Regatta – Blue Ocean Events – is enthusiastic about organising a second semi-professional sailing challenge next year.
Regis Elhaouel, one of the organisers, thanked all the sponsors for their contribution.
"We had a number of main sponsors, whom we named 'gold partners', as well as many other partners to whom we would want to say thank you for whatever role they played in realising the Seychelles Regatta," he said.
The sentiment was echoed by Selma Magnan from the Seychelles Tourism Board (STB), who said they have some faithful partners every time they organise activities on this scale, with new ones always bringing their support.
"The first Seychelles Regatta was such a sensation that preparation for a second will soon be underway, but we can't close the chapter of the first edition without thanking all sponsors who have helped to make this Seychelles Regatta an event to remember," she said.
'Gold partner' sponsors included the STB, Air Seychelles, Nicolas Feuillatte and Labriz Silhouette, but there was an equally big contribution from Eden Island for hosting the regatta's press conference and closing ceremony.
Nicolas Feuillatte sponsored its own brand of champagne with accompanying glasses, and Air Seychelles provided discounted airline tickets.
Words of gratitude also go to other supporting partners: Mason's Travel, Zil Air, Seychelles Reservation, the Wharf Hotel & Marina, Hilton Northolme Seychelles, ISPC, Ecover, Ocean Charters, VPM, Crouesty Location and Pro Marine.