National Theme Song Contest-Patrick Joseph excels
08-June-2009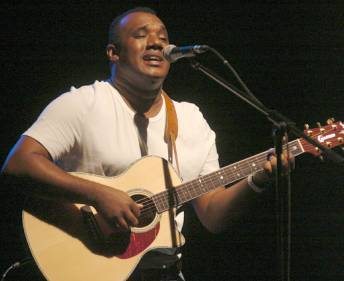 The results of the contest – launched as part of the campaign to bring all Seychellois together in the spirit of unity – were announced by the event's organizers at the International Conference Centre on Saturday afternoon.
Patrick faced stiff competition from a total of 89 entries from other local artists and which a jury of seven spent two weeks deliberating over.
The competition was held to promote this year's national theme Koste Seselwa (Come Together Seychellois), which was also the theme of the contest. A working group within the national day organising committee were in charge of the contest. Chaired by the principal secretary for Culture Denis Rose, the other members of the working group were Jimmy Savy, Emmanuel D'Offay, Alain Volcere and Jeanne Simeon.
"Although this is only the second national day song contest organised, we have had the biggest number of entries for any song competition in Seychelles," said PS Rose. "The winners will be immediately notified and will be reminded that as winners, they are also required to perform in a cultural show after the June 18 parade. They will receive their prizes in another ceremony to be held at a later date."
Professional and amateur artists from Mahe, Praslin and La Digue -- some of them having been absent from the music scene for some time – took part in the contest.
The seven-member jury were not aware of who their colleagues were, but only knew that they consisted of professionals with in-depth knowledge of music, such as music teachers, music critics, disc jockeys and journalists. Points were given based on how much the song related to the theme, on the wording and richness of the lyrics and musical arrangements.
(See accompanying box for the list of the top ten contest winners with the title of their songs and the number of points they scored).
The committee is asking those whose songs did not win a prize to collect their work as from next week at the International Conference Centre. Mr Rose said that the committee will also meet at a later date to discuss other possibilities of exploiting the winning songs, adding that the national day committee now has full ownership and copyright of the winning songs.
National Theme Song Contest Winners
1st: Patrick Joseph Koste Seselwa 199 points
2nd: Garry Florentine Koste Seselwa, 187 points
Sanmenm Sel Semen
Pour En Meyer Sesel
3rd: Elijah Koste Ede 184.5 points
4th: Chicco Fyer Pour En Seselwa 181 points
5th: Simon Amade Koste Mon Pep 175 points
6th: Michelle Marengo Mon Nasyon 173.5 points
7th: RJ Group Koste Seselwa 168 points
8th: John Wirtz Koste Mon Pep 166 points
8th: Rainbow Ansanm Dan Larmoni 166 points
9th: Clive Camille En Sel Fanmir 162.5 points
10th: Telcy Pour Lanmour Nou Patri 158.5 points.